January 7, 2022
Camella Savannah: Gold Awardee for FIABCI Ph Master Plan Category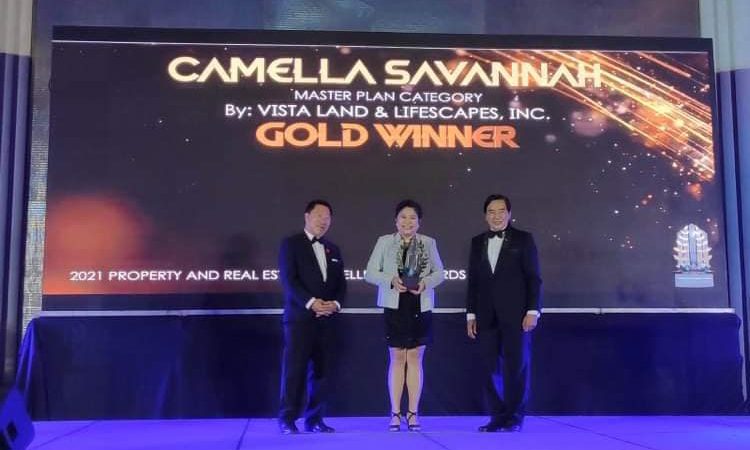 Camella Savannah: Gold Awardee for FIABCI Ph Master Plan Category
Following its transformation into a virtual event of FIABCI Property & Real Estate Excellence in 2020, and with decreased quarantine restrictions this year, the prestigious industry gathering returned as an exciting face-to-face event.
The recently completed Property and Real Estate Excellence Award 2021 was a star-studded evening, with over a hundred A-listers from the Philippine real estate sector in attendance on December 9 in the great ballroom of Okada Manila.
Camella Savannah of Vista Land and Lifescapes Inc was named Gold Outstanding Developer in the Masterplan category at the prestigious event, while Vista Land and Lifescapes were named Developer of the Year and Crosswinds was named Gold Outstanding Developer in the Resort category.
WHO IS FIABCI PHILIPPINES?
FIABCI Philippines is a chapter of FIABCI. FIABCI is an acronym for "Fédération Internationale des Administrateurs de Bien-Conselis Immobiliers," which translates to "The International Real Estate Federation" in English.
FIABCI, founded in 1951 in Paris, is a global business networking organization for all real estate professionals.
FIABCI has built an enviable reputation during its 71-year history. It represents the world's real estate professionals through its Special Consultative Status with the United Nations Organization's Economic and Social Council (ECOSOC).
At the United Nations, FIABCI's goal is to make recommendations and provide advice on topics such as property rights and poor housing.
FIABCI, which has chapters in more than 60 countries, including the Philippines, covers every discipline in the industry and links thousands of real estate professionals worldwide.
WHY CHOOSE CAMELLA SAVANNAH?
Camella Savannah is Vista Land's main project in the Iloilo province. Vista Land is the Philippines' largest homebuilder and one of the country's top publicly listed property businesses. The firm is a member of Manny Villar's Villar Group of Companies. It was created on February 28, 2007, and it was listed on the Philippine Stock Exchange on June 25, 2007. It has built over 400,000 homes in 49 provinces and 147 cities and municipalities in Luzon, Visayas, and Mindanao, making it the market leader by far in terms of total house construction. Vista Land's business is divided into four segments: horizontal, vertical, commercial, and affordable housing. The first two are concerned with the development and sale of residential properties, the third with the company's retail and business process outsourcing industry ventures, and the last with the development and management of other businesses such as resorts, hotels, clubs, and spas, as well as the activities of its holding companies. Vista Land subsidiaries include Brittany Corporation, Crown Asia Properties, Vista Residences, Camella, Camella Manors, Lessandra, Communities Philippines, and VLL International Inc. Vista Land offers a diverse choice of lots to suit the demands of every Filipino. The house's price range starts at Php 750,00 up to Php 48,000,000. In 2020, Vista Land launched the Lumina Homes as their line of affordable mass housing projects. With Vista Land, Filipinos can achieve their dream home, whether luxurious, mid-income segments and affordable low-cost lots. Vista Land also Vista Mall which has the flagship stores like AllHome, All Day Supermarket, Coffee Project, Bake My Day, KinderCity, and Finds which is a Discount Store.
Camella Homes Savannah is a master-planned community with world class settings located in the heart of Iloilo. It that includes commercial companies, lifestyle facilities, and a home and lot development for Ilongo's dream house and properties.
Camella Homes Savannah's location is conveniently accessible from everywhere in Iloilo. Get to Camella Homes Savannah from the city center by taking the Diversion Road or the Old Iloilo-Capiz Road, then turning left onto Circumferential Road 1. From there, take the next right into Iloilo City – Aleosan Road. Camella Savannah's major road is about 500 meters away.
Camella Homes Savannah provides many quality house and lot for sale ranging from low-cost starter houses to large estates. Savannah has properties with developments that will meet most of the needs and demands of home buyers and investors.
ALSO READ: Camella Savannah, More Than Just a Home
Homes for first-time buyers
Aliyah and Bella are ideal two-bedroom real estate houses to buy in for persons looking to start owning an economical and excellent property type. These houses floor for sale include everything you need in a home, including two toilets and baths and a large lot space.
Cara is a three-bedroom home and lot unit for sale. Cara's floor has two toilet-and-bath and a provision for a garage for new families that need additional space.
Mid-Sized Residences
Dana and Ella are the best possibilities if you wish to move your family into a medium-sized house and lot unit. The Dana home model's floor has four bedrooms, while the Ella house model's floor has five bedrooms, including the master bedroom on the main level. The residences also include three toilets and baths, as well as options for balconies and carports.
Grandiose Houses
For most people looking for alternative residences with plenty of space for your growing family, the Freya and Greta house models are excellent options. Freya offers five bedrooms, three toilets and bathrooms, a balcony, and a garage to meet your interior and outdoor space needs. It also features an extra area within the house that may be used as a family or hobby room.
Greta, on the other hand, is a two-story single-detached house and lot with five bedrooms and three bathrooms. Greta, like Freya, has a balcony but an additional two-car garage. Greta also adds a touch of luxury to your life by including a bathtub in the residence.
AMENITIES
Camella Savannah in Iloilo is a township that caters to all of its residents' requirements. Swimming pools, playgrounds, basketball court, a tennis court, football fields, and jogging trails are available in this house and lot development to keep you and your children occupied. Camella Savannah also features clubhouses, pocket parks, and other open places where you may enjoy your green surroundings if you prefer peace and quiet.
Savannah in Iloilo also has its own school, Georgia Academy, and St. Pio Church. Camella residents in Savannah also don't have to travel far for groceries. Vista Mall, just a few minutes walk from your home, is the closest landmark from Savannah. Residents may buy for home necessities at AllHome, coffee and pastries at Coffee Project and Bake My Day, and food at AllDay Supermarket.
Affordability And Convenience
Camella Homes Savannah's Iloilo site location is thoughtfully designed to place residents at the heart of their life's needs and demands. Aside from the township's facilities and commercial projects, Camella Homes Savannah is also accessible to the best of Iloilo City such as:
Malls
The city's largest malls, such as SM Iloilo, Gaisano Mall, Robinsons Mall, and S&R, are only a few minutes away from Camella Savannah.
Supermarkets
There are several supermarkets nearby, including Iloilo Supermart, Palisades Iloilo Supermarket and Wet Market, and Brgy. The Sibaguan Wet Market is only a few minutes away.
Schools
Being in Camella Homes Savannah also means living near the greatest universities in Iloilo City and the Western Visayas. Central Philippine University, the University of the Philippines Visayas, and the University of San Agustin are all within a few minutes' drive from Camella homes house along with St. Paul's University, Western Visayas State University, St. Joseph Academy, and St. Isabel International School.
Hospitals
With various hospitals accessible from your Camella homes, you never have to worry about medical emergencies. Western Visayas Medical Center, West Visayas State University Medical Center, QualiMed Iloilo, Iloilo Mission Hospital, The Medical City Iloilo, and St. Therese Hospital are just few minutes away from Camella Homes Savannah.
Commercial Zones
Working in Iloilo City's commercial zones and returning to Camella Savannah is very simple, thanks to the numerous access routes. Traveling to commercial areas and the city's biggest hubs becomes simple and traffic-free because of this access routes.
Terminals of transportation
With a variety of transportation alternatives, it is convenient and easy to reach the destinations in the city and surrounding villages of Camella Savannah as it is only a short drive away from Iloilo's New People's Terminal, Mohon Terminal, Super Terminal, Ungka Terminal, and Tagbak Terminal. From these terminals, travelling to any part of Panay Islands and visit popular and familiar tourist and local places. Reaching the Iloilo International Airport and Port of Iloilo in less than half an hour from your Camella property and lot area.
Worship Facilities
With Camella Homes Savannah being located in the center of Iloilo,provides an easy access to the city's many ancient churches. Among these are some of the country's most historic sites, such as the Molo Church and the Jaro Cathedral. The Legacy Church and Iglesia ni Cristo are two more local churches. Finally, you might travel to other towns in Central Iloilo to see sites of worship such as San Miguel Church, Sta. Barbara Church, Molo Church, and Pavia Church are all located in the same neighborhood.
Camella Savannah Amenities
5 Basketball Courts
Play parks
Gazebos
Georgia Academy Football Field
Gerogia Academy
Playground
St. Pio Church
Tennis Court
The Central Park Clubhouse in Savannah
The Pinnacle Park Clubhouse Savannah
LANDMARKS
Places of Worship
St. Pio Church (Located inside Camella Savannah Township)
Mandurriao Church
Jaro Cathedral
The Legacy Church
Iglesia ni Cristo
San Miguel Church
Sta. Barbara Church
Molo Church
Pavia Church
Schools
Georgia Academy (Located inside Camella Savannah Township)
Central Philippine University
University of the Philippines Visayas
University of San Agustin
St. Paul's University
Western Visayas State University
St. Joseph Academy
Sta. Isabel International School
Hospital
Western Visayas Medical Center
West Visayas State University Medical Center
Iloilo Mission Hospital
The Medical City Iloilo
St. Therese Hospital
Malls
VistaMall Iloilo
SM Iloilo
Gaisano Mall
Robinsons Mall
The Atrium
Marymart Mall
Transport Terminal
New People's Terminal
Mohon Terminal
Super Terminal
Ungka Terminal
Tagbak Terminal
Iloilo International Airport
Port of Iloilo
Supermarket/Wet Market
Iloilo Supermart
Palisades Iloilo Supermarket/Wet Market
Brgy. Sibaguan Wet Market
Camella Savannah investment starts at Php 2,967,000. Price may depend on the number of floors, rooms and location of the property.
CAMELLA HOMES
Camella Homes by Vista Land is a well-known Filipino home brand and developer that has been in business for over four decades. Camella Homes was called after the Camellia flower, a lovely evergreen plant with lovely blossoms. The building of housing goods began in August 1977 with the establishment of a gravel and sand firm by businessman Manuel, better known as Manny B. Villar, who eventually expanded into home construction through Camella with the goal of providing inexpensive homes to Filipinos. Camella Homes, like its moniker, has grown into a high-fluoridating brand and developer preferred by Filipino homeowners and OFWs. Camella has expanded from a small village to Metro Manila, Las Piñas, 47 provinces and 149 cities and municipalities in the country, containing around 500,000 people.
Camella has residences ranging in size from 53 square meters to 166 square meters to meet your needs. There is a Camella house for you whether you are beginning a family, expanding your family, or retiring.
To obtain a Camella pre selling or ready for occupancy house and lot for sale in Metro Manila and nearby provinces, it is a must to first ask, either directly or contact through a Real Estate Agent or contact through Camella's website link, www.camella.com.ph or facebook account. Following an enquiry, the Agent who aided the client will ask if they want to be scheduled for a trip or a site visit. This will assist to appreciate and directly experience the project, check the lot area, facilities such as baths, rooms and toilets, to check if they require to create or remodel anything within the lot area of the property before paying for reservation or submit necessary documents before getting their dream or future house and investment. If the client decide to proceed with the purchase, they will meet with a marketing officer for an interview.
The price of the house may depend on the lot area and the location of the property wether it may be a house and lot, vacant lot or condo unit.
Downpayment or to reserve for Camella Homes house and lot for sale are through Bills payment (BDO, PNB, RCBC), Over the Counter (BDO, UnionBank) and Online banking (BDO).
For the mid-priced housing category, there are typically two (2) forms of financing available for Camella Homes lots and properties for sale: bank financing and in-house financing. However, PAG-IBIG financing is also an option .
Do you want to buy or create a home in a desirable location at a reasonable price? Visit All Properties.