January 7, 2022
Top Interior Design Trends 2022 in the Philippines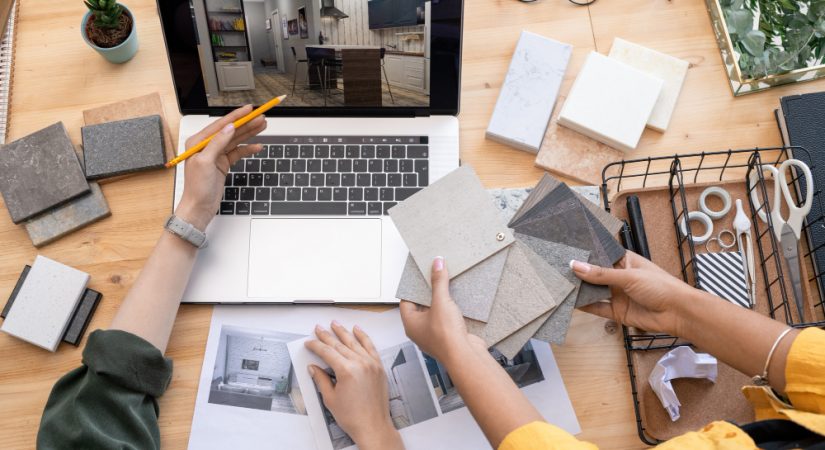 As the year comes to a close, the housing trend for the new year is becoming a hot issue among architects, designers, and even on social networking sites like Pinterest.
Many of our decorating and design decisions last year were inspired by a need for comfort and security, and these same themes will dominate interior design trends in 2022.
In this post, we will highlight up-and-coming interiors trends for 2022 that feature nifty ideas for your living room, bedroom, and kitchen that will help you make home décor and styling decisions for the coming year.
LIVING ROOM AND BEDROOM TRENDS FOR 2022
NATURE & NATURAL HUES
The sustainable and eco-friendly lifestyle will be prompted in the interior design trends of 2022, whether it is the living room, bedroom, or dining area.
The future year will be filled with neutral color palette items, including indoor plants for better air quality, raw-material furnishings, and green shades such as sage, mint, and emerald green which bring authentic greenery. In a nutshell, the phrase for the living room and bedroom trends 2022 is bringing authentic greenery or bring nature-inspired looks at home!
Lots of plants and natural elements which bring nature indoors vibe into the living room with furnishings made of natural fibers such as rattan or linens made of linen or cotton gauze can be seen in 2022. These organic decors and textures will look amazing with wood, concrete, and marble.
With green colors (mint, sage, and emerald green) and textures, this trend can bring life to plain and dull walls. Along with earthy, herbal, or vegetable tones such as sage, as well as green/blue hues. These colors will look great with terracotta furniture and metallic finishes like gold and brass.
SCANDINAVIAN
Scandinavian Interiors is the second living room trend for 2022. Clean lines, minimalistic designs, and minimal color accents define this look. Expect to see a lot more Scandinavian influences in the next year, from furniture to design to interiors.
Scandinavian design is characterized by white walls, wood floors, contemporary furniture, contemporary lines, and minimalist décor. Because the Scandinavian winters are gloomy, individuals who live in these places choose to decorate their homes with light-colored and fresh interiors. You may use white, gray, and beige tones, as well as natural materials. To get this basic yet appealing interior design, combine warm cushions and blankets with fresh plants and wooden furniture.
You may also anticipate bare wood flooring and white painted brick walls in a Scandinavian-designed space, which give a rough texture while maximizing the light coming in via wide windows. One of the nicest things about Scandinavian design is that it works equally well in huge houses as it does in little flats. Scandinavian interiors are defined by three main components: simplicity, natural materials, and utility.
ZONING OFF
Zoning off the areas or dividing multifunctional spaces will be the developing trend in interior design in 2022. You can use a compact desk for work or a multi-functional coffee table that can be converted into a workspace. Numerous smart pieces of furniture are available on the market, ranging from multipurpose sofas and tables to cubby workstations and built-in furniture.
You may split your living room into your desired sections using paint, home decor, furniture, or dividers. Use eye-catching home decor, wall murals, such as geometric motifs or accent walls. For flooring, you may use geometric patterned floors or tiles. This will make a section of a room stand out and appear isolated from the rest of the room without really separating it. The second method is to utilize several types of furniture and arrange them in a certain pattern.
The final option is to employ partitions and room dividers. These items will immediately offer space for a fresh look as well as some seclusion. Use dividers made of natural materials like wood or rattan. You can effortlessly transition between your working area and the fun zone this way.
ROUND SHAPES
Interiors with clean lines and sharp forms have been trendy for more than the past year. But not in the year 2022! In the following year, the interior design trend and statement furniture will be more focused on softer and rounder designs. Whether it's ornamental pieces, rounded furniture such as sumptuous c shape sofas and soft edge tables, or the general design motif, living rooms will be filled with circular forms.
Coziness and usefulness are two elements that often spring to mind when we think about furniture. We are continuously seeking for new methods to make our living spaces more comfortable and stylish. As a result, the living room design for 2022 will have round-shaped couches, chairs, tables, and other room components.
Choose furniture that is basic, austere, and multipurpose. These components may be expertly decorated with the rest of the angular decors, such as picture frames, wall cupboards, and art elements. Curved or rounded forms can readily be used to provide a softer, more delicate look.
WALLPAPERS
Wallpapers have been a significant aspect of interior design in recent years. Wallpapers are also recommended as one of the best home decor trends by architects, interior designer and specialists to bring drama and character to the area. Wallpapers will be a major design in the living room trends 2022 the following year.
Wallpaper comes in a variety of designs and colors, ranging from lovely florals to textured to patterns and images. Some providers even offer to modify it to match your home's decor.
In addition to wallpaper, coverings made of jute, silk, linen, and cotton will be found in many living rooms in the next year. They're environmentally friendly, affordable, and the simplest way to add comfort and coziness to any home.
MINIMALIST
Minimalist modern interior design is becoming increasingly trendy in living areas, bedrooms, and bathrooms. Because of its ease of incorporation into many styles, this style is always in demand, particularly in large cities and metropolitan regions.
Living rooms with enormous couches, a lot of storage space, and a lot of ornamented objects appear tired and awkward, and people are sick of it. They now choose the minimalist style, which is more clean, elegant, and minimal. As previously said, the emphasis for the coming year will be on comfort and useful space.
The overall appearance of the minimalist design is clean and succinct, and it is ideal for open environments with lots of natural light. Include furniture with smooth curves, comfy sofas, and upholstered furniture, and emphasize their minimalist lines.
NATURAL AND ARTIFICIAL LIGHTING
Because the following year's major interior design concept is simple and gentle, you can expect to see vintage and modern lighting fixtures everywhere. So, if you're thinking of remodeling or renovating your living room or bed room, consider the lighting specifically natural lighting. Place your furnishings in such a manner that more natural light may enter the space.
A combination of natural and artificial lighting may truly make your area stand out. You can quickly make your space look larger and transform its environment by using lighting fixtures such as pendant lights, chandeliers, and wall lighting.
KITCHEN INTERIOR TRENDS FOR 2022
ROUND AND CURVE
The kitchen's traditional hard surfaces are becoming softer and curvier as the space's design integrates its new purpose as a place of peace and socialization. The difference between curvy furniture such as a kitchen countertop and a classic hard right angle completely affects your modern kitchen concepts. A curved edge begs you to run your fingers over it, whereas a 90-degree angle suggests the possibility of colliding with it.
In the kitchen, flowing lines and smooth curves attract you in, while comfortable contours and gently rounded edges lend a peaceful serenity to the area and add a hint of refinement. Curves in the kitchen assist to create an almost magical atmosphere, with organic shapes pulling influence from nature.
MINT AND GREEN HUES
As interior design looks to natural materials, shapes, and colors to bring the peaceful, grounding quality of the outdoors inside the house, the kitchen adopts a classic, timeless tone directly from the garden as a major hue for 2022. Mint is an energizing, zingy, yet delicate green that maintains the kitchen's trend toward soft pastels while expressing our desire to be connected to nature.
If you want to take it a step further, it is especially utilized for kitchen cabinet designs. And there's a green for every aesthetic, from barely-there sage greens that nearly behave as a neutral to deep forest greens for a more dramatic and cocooning effect. So, whether you want to keep things quiet or have more fun with your kitchen colors, it's time to ditch the ever-popular greys and blues and experiment with this versatile nature-inspired shade.
PATTERNED WHITE SURFACE
The 2022 white kitchen trend is a far cry from the bright, dazzling surfaces you may expect, and is a lesson on how to make a white kitchen fascinating with a little change – the addition of texture and tactility.
Homeowners and designers are increasingly looking for new methods to give depth and character to white kitchens, which are traditionally associated with being sleek and shiny. Drawing on pigments inside the surface itself is an option, as is using surfaces with a matte, textured look. White and neutral surfaces exist in a variety of colors and forms; they no longer always relate to the shining look we're used to, but they do have an earthiness to them that reflects and expresses the beauty and appearance of nature.
MULTIFUNCTIONAL FURNITURE
As the kitchen becomes more of a living place in its own right, kitchen furniture design is evolving to keep up. Multi-functional furniture that integrates the kitchen with the rest of the house will become increasingly prevalent in our kitchens in the future. Stylish stand-alone components like dressers, glass cabinets, and wooden shelves will be more popular than traditional built-in solutions. They provide a useful yet beautiful aspect, allowing the homeowner to create a one-of-a-kind design with an accent color or a blend of materials – and exhibit their beloved objects for a warm, homey feel.
All in all, expect interior design trends for 2022 will be the following:
GREEN HUE
If the selections for the 2022 color of the year are any indicator, green is having a tremendous moment right now. Paint firms picked a shade of green as the top color trend for the next year, and designers believe the lush hue is beginning to oust blue as the most popular color to decorate with. Green is supposed to be a soothing reminder of the outdoors and the desire for a connection with nature, something we've been lacking because of the present pandemic crisis.
CURVES AND ROUNDED SHAPES
The angular, geometric designs that were fashionable in furniture, patterns, and architecture in previous years are being replaced by softer, wavier lines. Curves were included in Pinterest's 2022 trend forecast report, which noticed considerable increases in search interest for curved walls and living room couches over the previous year. Curves and rounded shapes inherently seem softer and more relaxing than harsh angles and straight lines, therefore soft lines, arcs, and curves are now appearing throughout furniture collections from a wide range of stores.
NEUTRAL COLORS
Crisp whites, steely grays, and other chilly neutrals have long been the hottest trends and nifty ideas for creating a clean, contemporary aesthetic, but tastes are beginning to change in a warmer direction. These soothing neutrals, as well as richer, earthier tones such as taupe, camel, and rust, are used on walls, upholstery, and other furnishings to create a warm, inviting ambiance. In addition to these more traditional colors, blush will emerge as a go-to neutral, such as versions of tan or taupe with gentle pink overtones to warm up a space and produce a joyful mood.
TEXTURE
The texture was listed the most frequently among the 2022 interior design trends. In the coming year, everything fuzzy, nubby, or warm will be fashionable. Layers and textures are popular in fashion right now, and they are generally not far behind in interior design. Textural treatments are being applied to walls as well, using techniques such as lime-washing and paint materials that resemble a plaster surface. Aesthetic for a range of materials, such as natural stone, leather, wood, and metal, as well as finely textured textiles like bouclé, to generate a warm, layered look through furniture and accessories.
VINTAGE AND MODERN DESIGN
Instead of buying completely new furniture, people are increasingly incorporating antiques and old items into more modern designs. Antiques and vintage-sourced décor and furniture are not only environmentally friendly since you are reusing objects, but they also provide for a contrast of old and modern in a place. Vintage buying (such as vintage couches with more natural materials or reimagined contemporary chairs) for design enthusiasts is more attractive in next year's trends.
BIOPHILIC DESIGN
Biophilic design, which was also named a top trend in the 2022 Pinterest Predicts report, tries to incorporate the outdoors into your home with natural materials, colors, and, of course, plants. Plant parents are experimenting more with plant-covered walls and creative hanging installations, moving beyond a few pots on the windowsill this coming year.
DECREASE OF WORK FROM HOME OFFICES
Home office or own office became a need rather than a luxury when much of the workforce moved to remote work at the start of the pandemic. Nearly two years later, many individuals are returning to the workplace, and the necessity for an at-home office may be dwindling. Anticipate many homeowners to return their home office arrangement this 2022 to the spare bedroom, gaming room, or walk-in closet it originally was when their requirements change.
SUSTAINABLE DECOR AND FURNITURE
Sustainable living and conscious-made décor, accessories made of eco-friendly materials, and furniture are becoming increasingly popular as more people become aware of their environmental effects and the origins of their items.