January 7, 2022
Contemporary Interior Design Ideas for your New Home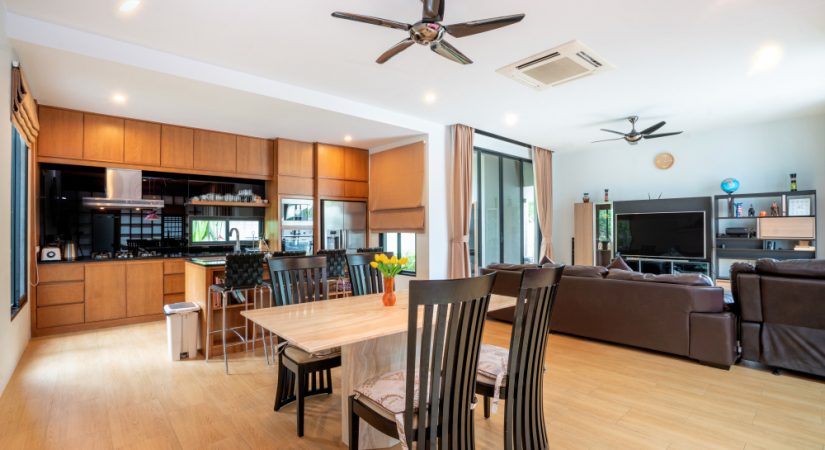 After you've purchased a house and a lot, the following step is to decorate the interior of your home. You may be unsure about where to begin, which room to begin with, or which design to select. Some of you may choose to consult an architect, while others will base the design of your home's interior on your preferences. Here are some suggestions to assist you to decide what you need to do with the interior of your home.
HOW TO DESIGN THE INTERIOR OF YOUR NEW HOME?
Designing the interior of your new home is an exciting process that will make all aspects feel like they're theirs. With so many options available, it can be difficult to know where you'll find inspiration for decorating but we have some tips. One great way would involve looking at what other people in your area are doing as this may give rise insights on how you want your space decorated.
Understand the space and demands of each part of the house
The first stage in the interior design process is to understand the space and demands of each part of the house, such as how many people will live in the house, the use of each room, and the intended design objective. A precise floor plan with a description of your requirements is essential. Plan the interiors of your house with a clear vision in mind, and then consult with an interior designer for guidance.
Set a budget for your home's interior
Set a budget for your home's interior design next. You don't have to spend a lot of money on your home's interior design. Divide your budget into distinct categories for each room and the kitchen or find accessories or furniture that are affordable and have lots of functionality. The budget of your house interior design may also depend on will be determined by numerous criteria, including the room's size, kind of furniture, furnishings, and accessories.
Design development
This is the most important phase in the interior design process. Design development is a synthesis of creative ideas and interior architecture. The most important aspect of the design process is space planning.
A design blueprint or a virtual design of your room will be provided by interior designers. This can assist you to comprehend the room's usage and dimensions. Once the procedure begins, the pictures will become reality.
Plan all of the electrical outlets and light fixtures
The following stage would be to plan all of the electrical outlets and light fixtures. It will also cover the completion of the plumbing and pipeline work. Before you begin painting or wallpapering the rooms, you must first decide on the electrical points. Lighting is an important consideration when planning the interiors of a home.
Choosing the proper flooring per area or room
Choosing the proper flooring may be a time-consuming process. As you arrange the interiors, get some information about the various varieties of flooring. You can choose from hardwood, laminates, tiles, or vinyl. The decision is influenced by the cost, location, and the benefits and drawbacks of each available alternative.
Find the right furniture
Before purchasing furniture, consider its intended use and the available space. Both functionality and aesthetics are intertwined. If you have a tiny living area, choose furniture with plenty of storage or can function like one as well.
Choose the proper paint
The most exciting aspect of the process is selecting a color for your walls. Choose colors that complement the lighting and furniture or depending on your desired style. If you want to give your walls a textured look, learn about the various paint finishes.
Decide the accessories and fixtures to install
You may choose different types of accessories for each area. Using brightly colored items in your living room and bedroom will help to draw attention to the design of the area. The usage of various textures will provide fun and delight.
Installation
The actual labor begins once your interior design is complete. The installation procedure then begins. All of the items and appliances that have been chosen are installed and worked on throughout this stage of the procedure.
WHAT IS CONTEMPORARY STYLE?
Designing the inside of a new house is thrilling and, most of the time, needs a lot of work, but among all of the stages stated above, picking the style or motif of your house interior is the most difficult.
People nowadays choose Scandinavian, bohemian, shabby chic, nautical, industrial, and contemporary style or modern interior design. In the Philippines, most homebuyers and owners prefer contemporary interior design.
Contemporary design, which dates back to the 1970s, is distinct in that it incorporates aspects from a variety of styles. There are hints to modern, classical, art deco, and even future design in it. Another distinguishing feature of contemporary design is that it is always developing. In contrast to other styles that are more or less set in stone, what is "of the moment" today may change in a few years. Curved lines, neutral hues, and simplicity characterize the design now, although it may change somewhat in the future.
Contemporary style refers to the following characteristics:
FORM
Form is a fundamental component in contemporary design. It's one of the features that distinguishes this design style from others with comparable aesthetics, such as modern design. With contemporary design "form," is actually shape. Whereas modern design refers to clean lines, almost boxy shapes, contemporary design goes a step farther. Rooms in contemporary style frequently contain a combination of straight and beautifully curved lines, which may be considered as a homage to the art deco roots of this style. Combining eye-catching lines in a number of ways throughout the contemporary design.
NEUTRAL COLORS
Neutral colors are the foundation of contemporary or modern design. T his style is composed of blacks, whites, tans, and grays. Bold solids are occasionally employed, but they are usually restricted to the position of an accent hue and utilized rarely. Incorporating a dash of color or keep to blending neutrals is also possible but if you pick this option, make sure to incorporate a lot of texture in your design.
LIGHTING
Another characteristics of contemporary design is the spread lots of lighting throughout the area, with a focus on natural light. In this instance, contemporary style takes a cue from mid-century modern design. Allowing enough natural light in whenever feasible. Windowed walls are frequent in rooms, but if they aren't a possibility, light in through any accessible windows is another option or by using normal layered light solutions such as ambient or recessed lighting, track lighting, or wall-mounted lamps that fill the bulk of the area and allow you to walk about securely, accent lights that are used to draw attention to a certain focal point, such as a piece of wall art and picture lights, wall-mounted fixtures, or track lighting, as well as dimmers, to produce mood lighting on these items and task lights such as desk lamps or pendant lights are used to help you complete a certain task.
HOW TO DECORATE MODERN INTERIOR DESIGN or CONTEMPORARY DESIGN?
Choose the right color palate or combination
The goal of contemporary design style is to keep things simple and calm. As a result, the color pallet of a contemporary living room area typically favors neutral tones over bold hues. Colors that are cool and neutral, such as white, grey, black, and beige, may work well in contemporary designs. To give a sense of brightness to otherwise clean and minimal concepts, utilize pastel colors like blue, pink, and green in home décor products.
Add some texture
Everything efficient and modern elements fits well into a contemporary designed house. Textural art deco and area rugs can be added to an otherwise minimalist room. Utilize jute and textured wood materials, table and floor lamps with modern cut-out patterns, and cabinets with some workmanship for a diversified look as long as you can maintain the overall living area clean and uncluttered.
Install good lights
Good lighting is used in contemporary design. The majority of the structures in this design are light and nearly glassy in appearance. In this sort of design, pin lights, up lights, wall lamps, spotlights, lights with dimmers, and other elements are common.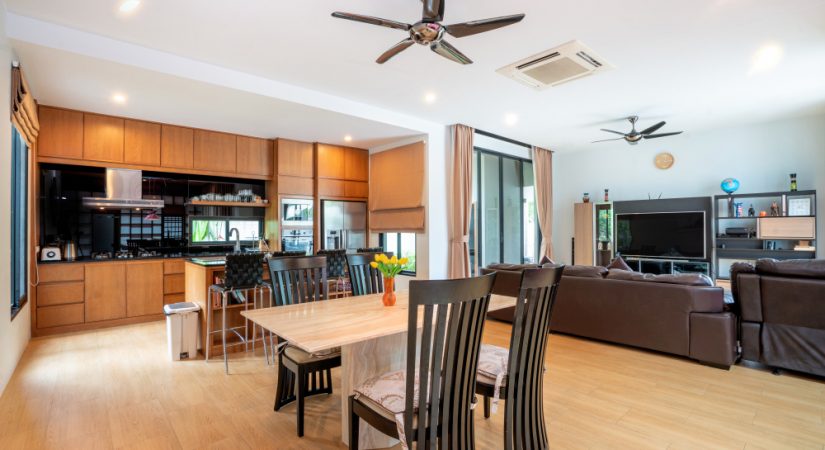 Here are some lights that can be installed or added to contemporary room design:
Kitchen
In terms of illumination, the kitchen may be separated into two areas: the cooking area and the eating area. A system of directional spotlights concentrated on the countertop regions is ideal for effective hob lighting. Spotlights can also be fitted or embedded in kitchen cabinets or added to the ceiling as retractable within plasterboard. In this scenario, the spotlight should be permanently fixed to the specified spots, as moving or updating it on a regular basis is inconvenient. It is desirable to utilize wider but definitive lighting in the eating room, but not so high that it causes eye strain or discomfort. Diners will be able to view the contents of their food if this type of illumination is used.
Contemporary Living Room
Living rooms with a table used for eating or as a receiving space may necessitate two sets of lights, similar to the kitchen area. The first sort of light should be diluted or scattered, while the second should be focused. In this situation, putting a greater intensity lamp wall in the table area may offer a bright and direct light so that people can see what they are doing at the table, while the remainder of the living room can be lighted by wall lamps with less light, a more dim and pleasant environment. Adding an adjustable light point in various areas of the living room may produce both a soft light mood and a well-lit setting with well-defined light. Installing wall lighting that can simulate a gentle ambiance or wall lamps with adjustable intensity can help. Adding a hanging light to the living room, on the other hand, might provide a sense of urgency to the space.
Contemporary Bedroom
The bedroom, which is the quietest and calm section of the house, may benefit from two types of lighting: one for relaxation and the other for utility. Bedside lamps with a stiff base and a flexible tubular body are an example of functional lighting. This form of light is easy to utilize since it is easier to find a suitable location for it.
Bathroom
The bathroom is usually the smallest room in the house. Bathrooms, while being the smallest, have a lot of usefulness and need a variety of lights. Installing spotlights on a fake ceiling, a chandelier on a ceiling or a ceiling light, in general, can push the light above downward and generate ambient lighting that can spread throughout the bathroom. Adding lighting to the vanity or bathroom mirror will also make it easier for people to do chores like shaving and brushing their teeth. Simply place the lights at eye level for optimal operation.
Make room for storage area
Storage spaces or built-in storage furniture are common to contemporary homes to give extra space and utilize tiny rooms in the house, as they help keep houses tidy and make life a little simpler. Built-in storage areas, shelves, and drawers in modernist furniture are ideal for books, newspapers, and toys. Storage bins and baskets help to arrange little objects and provide a nice touch to the living room décor. Coffee tables, side tables, and cabinets with drawers and shelves can be used to stock and arrange goods as well as to create visually appealing home decor. Finally, ornamental boxes beneath the counter, on the coffee table, or on the console table may conceal tiny objects while providing texture, color, and innovative storage alternatives.
Add some clean geometric shapes and lines
For a contemporary style, clean lines with curved patterns are used in interior design. You can easily switch between straight lines and curved edges to make the house feel more utilitarian while also feeling homey.
Have decluttered and open spaces available
Open floor layouts are a defining feature of modern home design. Open floor plans emphasize relaxing space while minimizing the usage of walls to separate the various sections of the house. Although open spaces do not imply that everything is connected, the transition from one room to another can be identified by variations in flooring height, wall color, lighting, or floor size and color. For example, the kitchen, lounge, and living room may be linked, yet each section has distinct elements that create its own space without the need for walls. The open floor plan is a key characteristic in modern house design and is frequently experimented with by builders and architects.
Get functional furniture
A contemporary home's furniture must always be useful. Exquisite design and workmanship may still be used in contemporary designs if the design inspiration adheres to a clear and defined structure. For a contemporary aesthetic, use furniture with curved edges and gleaming surfaces, whether made of stainless steel or wood.