June 6, 2022
Tips on How to Take Care of Your Outdoor Spaces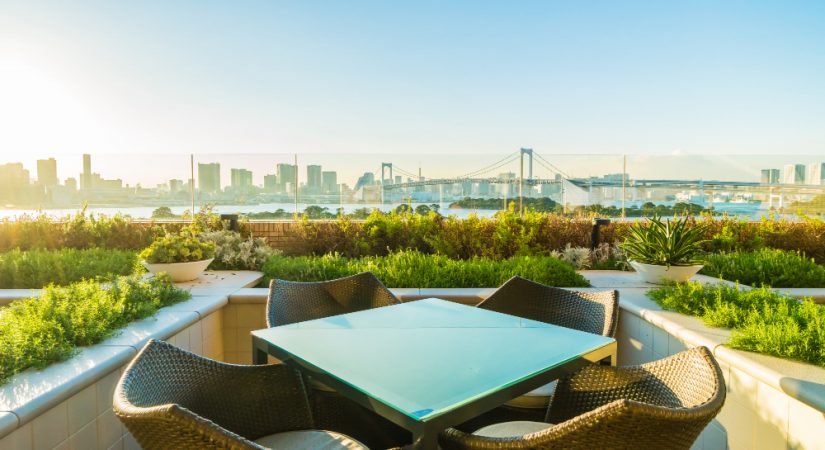 Most of us want an expansive outdoor space. A functional and tranquil outdoor space encourage and enable us to spend more time outdoors, whether it's to play with the kids, have weekend barbeques, or enjoy al fresco dining with the family on a cozy patio or outdoor dining area, which is becoming increasingly popular these days. It has been proven that spending time outside and breathing fresh air improves both mental and physical health. People who spend a significant amount of time outdoors are also more likely to be happy and healthy throughout their lives.
TIPS ON HOW TO TAKE CARE OF YOUR OUTDOOR LIVING SPACES
We frequently devote the majority of our time to maintaining the interior of our homes. To make it look pleasant, we clean, adorn and make sure that it is well maintained. Outdoor spaces, on the other hand, are an important part of our homes. It is critical to give our home's exterior the same amount of attention, if not more.
If you are an experienced homeowner or an aspiring homeowner looking to purchase a property with outdoor space, continue reading as we share tips on how to better care for your outdoor living area.
Keep your lawn in good condition.
One of the most important aspects of your outdoor space is its lawn. A well-maintained lawn can significantly improve the visual appeal of a landscape. Similarly, an unkept lawn can detract from the appearance of an outdoor space. Showing off a lush, green lawn is possible if you put in the time and effort for a solid lawn maintenance routine. Lawn care entails a series of simple daily and weekly tasks that you can complete on your own or with the assistance of a landscaping professional.
The first tip for a beautiful lawn is to mow the grass on a regular basis. Mowing your lawn at least once a week is a standard lawn care routine. It is also important to mow at the right time of day. To keep the grass moist, some experts recommend mowing lawns in the early evening. Additionally, when you mow, only cut about one-third of the grass height. Adequate water is the next essential component of a healthy lawn. Unless you have new grass seeds growing, you don't need to water your lawn every day. Watering should be done twice or three times per week.
If some areas of your lawn look great but others are patchy, it's time to reseed. Weed-infested lawn patches may also require reseeding. Begin the reseeding process by killing all weeds with a strong herbicide.
The final tip for a perfect lawn is to take good care of your lawnmower. When it comes to maintaining a beautiful lawn, your lawnmower is the hardest working tool in your shed. Make sure your lawnmower's blades are sharp. Clean out the undercarriage of your mower after each use to prevent rust and keep it running smoothly.
Make use of natural grass.
Natural Grass has a positive environmental impact because it is a plant that can absorb and trap carbon dioxide that causes global warming. Grass is known to cool itself and its surroundings, reducing home cooling needs, as well as to purify rainwater and improve groundwater quality.
You must mow the grass in order to keep it in good condition. Some people are eager to cut grass very short in order to maximize the time between mowing, but cutting grass too short can cause it to burn and dry out in summer weather. As a result, more frequent decisive trims are encouraged.
Wooden features should be inspected, cleaned, and maintained on a regular basis.
Expansive decks and outdoor furniture such as chairs, shade, table and wall made of wood can be lovely additions to an outdoor rooms. However, in order to withstand the natural elements, they will need to be maintained on a regular basis.
Pollen, mold, and other contaminants can begin to build up on your wooden surfaces. It is always a good idea to power wash them and inspect for areas that have been lightened by the sun or that require resealing. Repainting and resealing efforts can be beneficial from time to time to keep your wood features looking their best.
You should also look for signs of wood rot and other urgent repairs. The sooner you detect any flaws, the less expensive it will be to repair them.
Outdoor design, furniture, and appliances require special attention.
Outdoor areas such as patio, backyard and garden are ideal for entertaining guests or simply serving as a natural extension of your indoor space. As a result, it is understandable that your outdoor space includes many amenities that make the inside of your home so cozy and inviting. Outdoor area with dining areas or outdoor kitchen commonly include tables and chairs for hosting gatherings, as well as a grill and other food prep space.
Ideally, your outdoor living space specially if you have an outdoor living room or dining area will include furniture that was designed with the outdoors in mind. If this is the case, items such as chairs and tables will be made of durable materials. It is still a good idea to buy weather resistant covers to help your furniture last longer and protect it from the elements. When it's time to use them, simply dust off your furniture, lightly clean it with soap and water, and let it dry in the sun.
Make sure that you outdoor space design include plants.
Decks, patios, porch and well-paved surfaces can dramatically improve the aesthetics of an outdoor rooms. Plant life, on the other hand, is likely to make the most of outdoor room. Depending on the level of maintenance you prefer, you must choose the right plants to dot around your outdoor living space, or you may even dedicate a full garden area.
Perennial plants or herb garden are ideal for use in your environment. They require some initial investment, but they continue to bloom year after year. It is best to purchase mature trees and find a great space for them if you choose trees to provide shade or simply accent your outdoor space. You will then be able to keep them trimmed and maintained. Buying mature trees is also a good idea if you're not sure how long you'll be in your current home or if you're concerned about raising saplings. Finish off your outdoor with design ideas such as decomposed granite pathway, string lights, and fire pit area.
ADVANTAGE OF A WELL-KEPT OUTDOOR LIVING SPACE
A well-kept outdoor living space ideally adds usable space to our home. Instead of settling for interior space, we can use your entire property to create more living space. Outdoor living space are more customizable than interior spaces because you can choose what function they serve. For example, if you want to protect your home from the dreadful virus and have a place where you can receive guests without going inside your house, you can simply build an outdoor room with comfortable seating, a coffee table, and some decorative outdoor furnishings. You can also create a makeshift outdoor living room or dining room or patio by laying beautiful outdoor tiles on the ground, adding outdoor seating such as large, plush couch and pillows, as well as a natural wood coffee table, an outdoor fireplace like a rustic metal fire pit or fire pits, which is ideal to enjoy evenings spent under the stars.
If you focus on updating your outdoor living space, your home's value will skyrocket. Buyers are more likely to purchase a home with a functional floor plan and stylish outdoor living. Creating your outdoor more inviting to guests and future homebuyers will surely make it a a sought after feature of the house. Furthermore, it improves curb appeal, which is one of the most desired features of a home. Even if you don't intend to sell anytime soon, the value of your home will increase over time, and you'll be able to enjoy the benefits of a beautiful outdoor living space in the meantime.