November 7, 2022
Things to Look Out For When Moving To A New Community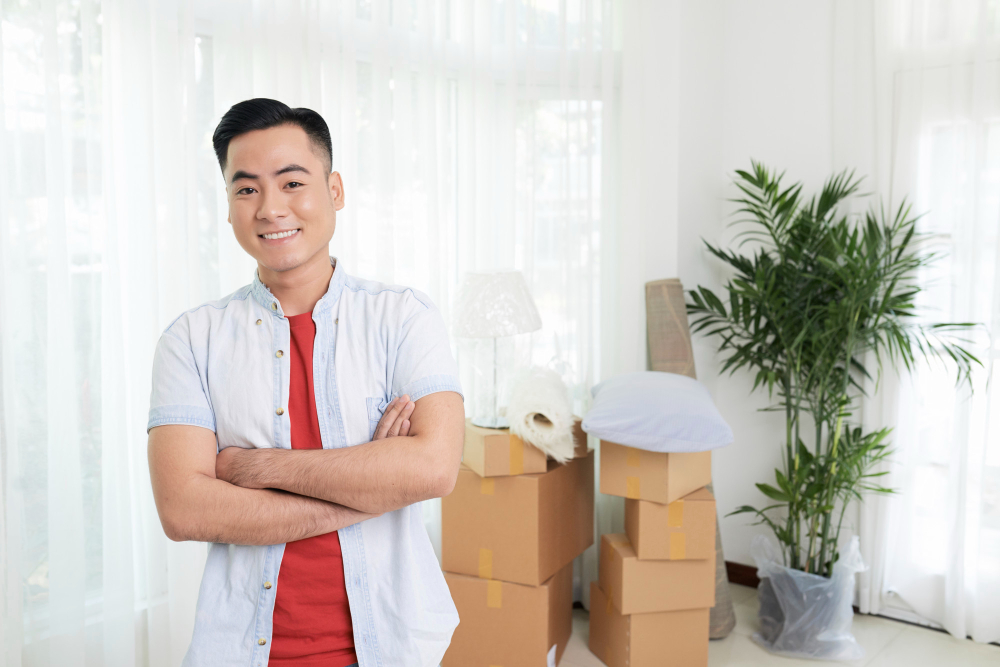 Moving to a new community is a time-consuming and often stressful process. While the end goal brings new opportunities and experiences, getting there can still be a chore.
However, moving, on the other hand, can be a low-stress experience with proper planning and preparation. We put together a guide full of tips and tasks to remember before the big day to help make your move easier.
Before the Transfer
Before your move, you should create a timeline, create a moving budget, and hire professional services.
Understanding the Dynamic Timeline of your Moving checklist
Allow six months for planning before your moving date. The first item on your agenda to consider is your budget. Moving costs can quickly add up, so estimate how much your move will cost. Moving boxes, packing supplies, and insurance should all be considered in addition to professional movers.
Hiring Movers or Moving Services
Hiring a professional moving company can eliminate a significant source of stress on moving days. Many of the best movers provide various services, such as loading and unloading, transportation and delivery, furniture assembly, and vehicle relocation. To compare pricing, services, and promotions, we recommend obtaining moving estimates or quotes from at least three different companies.
When comparing moving quotes, you should also consider each company's reputation by checking the company reviews. Make certain that the company you choose is licensed and insured so that your belongings are safe during the move.
The distance between your current location and your future home is one final factor to consider before hiring a professional mover. If you're moving to a new neighborhood or to a location that's a long distance away from your current one, you should think about hiring a long-distance moving company or moving truck. These businesses provide one-of-a-kind services to assist you with your long journeys, such as long-term storage, vehicle transportation, and GPS tracking.
Services Cancellation, Forwarding, and Start
Your current postal service address is linked to several services, subscriptions, bills, and mail. Before you move, you should cancel or transfer these items to your new location. The following services should be canceled or adjusted before your move:
Water
Electricity
Internet access via wireless and cable
Subscription boxes for food, magazine, or newspaper
Services for pest control and landscaping
Close your utilities two weeks before you move. While you may need to cancel services at your current residence and reschedule them at your new address, you may be able to transfer utilities to your new address. You should allow about two days between the closing of your old utilities and the opening of your new utilities.
Getting Rid of Things
When you move to your new place, you will inevitably have to leave some items behind. The less you own, the less space, time, and money it takes to relocate. That is why it is critical to understand which items you are taking, donating, or throwing away.
Starting exploring from room to room and looking for items you no longer use is the simplest way to declutter your home. For example, in your living room, get rid of old DVDs, CDs, and books, and in your kitchen, get rid of expired food, old sauce packets, and unused cookware. You can then decide how to properly dispose of each item.
Getting Ready to Move
Purchasing the proper supplies and packing your belongings is critical to a smooth move. Here are some packing tips and tricks to get you started.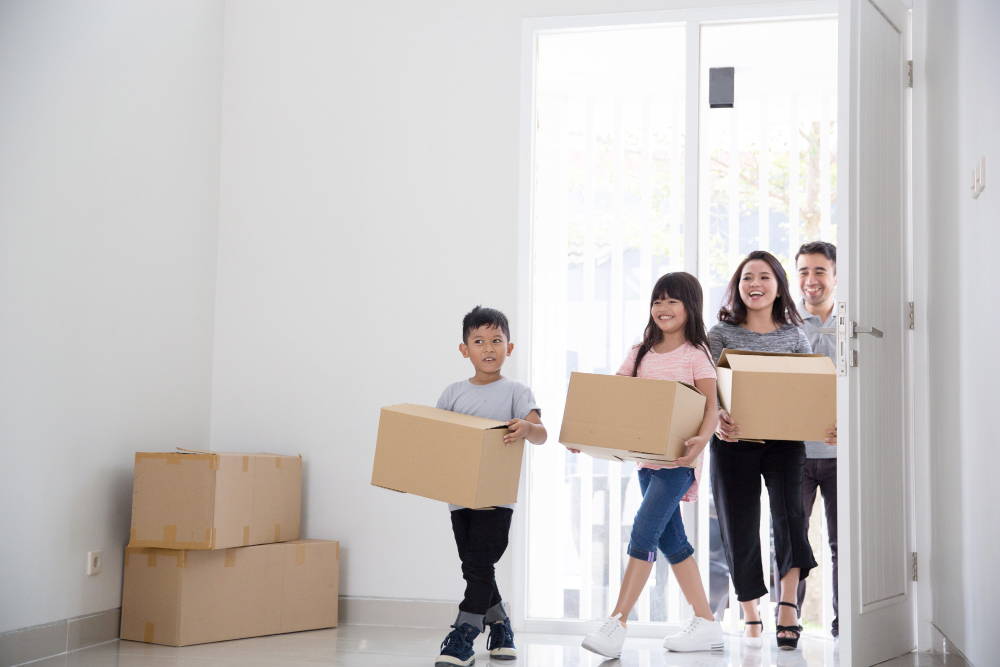 Supplies
Packing can be a daunting task if you are unprepared. Begin by looking for free or low-cost moving boxes or free moving boxes. You can usually get extra free boxes at your supermarket or grocery store.
As much as possible, ensure all your boxes are the same size. This will make it easier for your boxes to fit on a moving truck or dolly. Consider any additional moving supplies you may require. Moving blankets, newspapers, labels, and bubble wrap are all essential packing materials for keeping your belongings safe and organized while you move.
The following is a comprehensive list of packing and moving supplies that you may require for your move:
Cardboard or plastic moving boxes
Packing tape
Packing paper
Plastic wrap
Bubble wrap
Plastic baggies
Labels
Markers
Moving blankets
Cargo straps
Start Packing
The real fun can begin after purchasing packing supplies. Begin packing two or three weeks before move-in day, and finish a few days before the date. While full-service movers provide whole-home packing, you may want to do some of the work yourself to save money.
Begin packing by room, boxing non-essential items such as decorations, pictures, artwork, and books. Make sure to label everything so that you and your movers can unpack items in the correct room. Other packing tips include putting heavier items in small boxes or at the bottom of mixed-item boxes, taping each box for extra security, and filling each box.
Moving with Pets
When moving with pets, it's critical to consider the list of necessities your pet will require on the big day. Here's a list of items to keep in mind for your pet on moving day:
Medications
Treats
Favorite toys
Poop bags
Food
Water and food bowls
Crate or playpen
Here are a few non-pet items you may want to keep safe or easily accessible while moving:
Toolset
Toilet tissue
Toilet paper
Bags for garbage
Mobile phones
Documents and certificates of importance
During the Move
When the big day arrives, here are some things to remember to make the day go as smoothly as possible:
Make a final sweep of your current residence. Make certain that nothing is left in the basement, attic, crawl spaces, or cabinets.
Items that the future homeowner will require should be left. Garage door openers, door keys, and security codes are examples of such items.
Check the complex's moving schedule if you're moving into an apartment. There may be a time limit for moving your belongings.
Make an elevator reservation. If you're moving into a multi-story building and need to use an elevator, ask the front desk if you can reserve one. This will speed up the moving process by ensuring that an elevator is always available for you.
Make yourself available to answer any questions your mover may have. If you hire a moving company, make yourself available to direct the movers or answer any questions they may have. This will ensure that your relocation goes as smoothly as possible.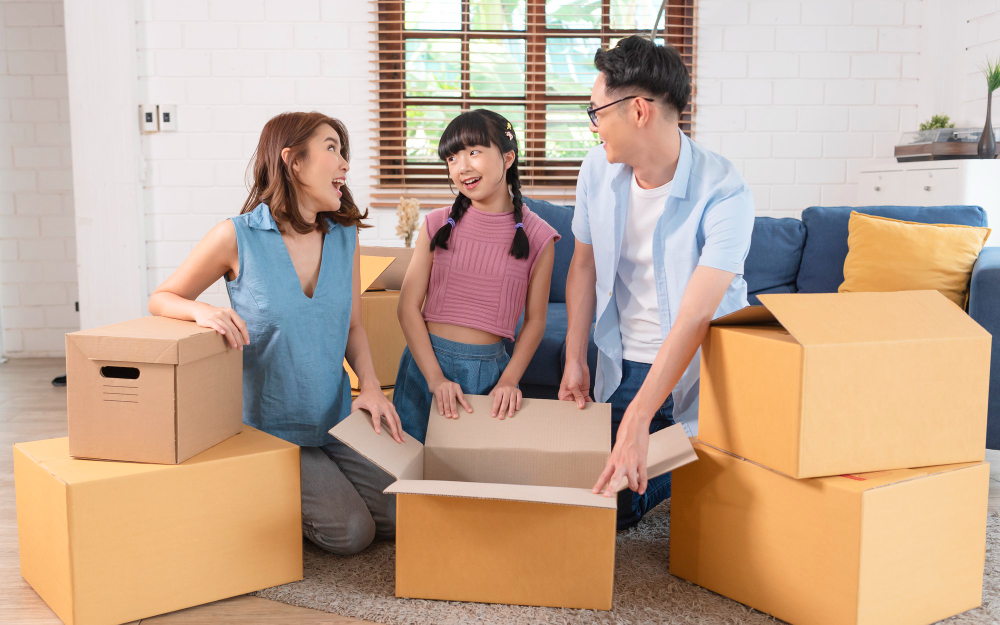 Unpacking
The order of items brought into the new home is critical for all movers. Begin with big items like your living room set, dining room table, mattresses, and bed frames. Continue with large boxes and smaller items. Pack small house plants in open boxes cushioned with newspaper if you plan to move them. Wrap larger plants in plastic and secure them to your moving truck with string or tape.
A moving company will know how to pack and unload their trucks in the most efficient manner. Allowing the movers to do their job and being available for any questions they may have is the most helpful thing you can do.
Finally, because the stress of your move is bound to work up an appetite, pack small snacks and drinks to keep you satiated until after the move when you can finally cook a meal or order take-out.
Get used to your new community
To get used to your new community you and your family members can start exploring by attending local events, exploring local businesses in the area, visiting the local library, checking your child's school, and meeting new neighbors.