June 6, 2022
Streamtech: Best Fiber Internet Philippines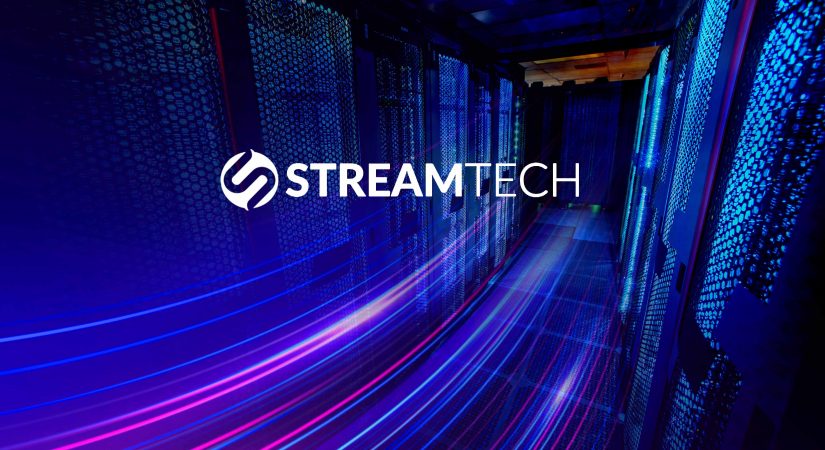 A lot of things changed during the outbreak of COVID-19 in the Philippines. As Filipinos try to avoid catching and spreading the virus, different protocols and safety measures were established and made.
Schools, colleges, and universities, in the country, introduced a new form of Philippine Education through Distance Learning. Distance Learning, according to the Department of Education or DepEd, means a situation where learning takes place between the teacher and the learner who are geographically remote from each other during instruction. To enable the student to adapt to these changes, DepEd prepared and distributed modules, television episodes were made, and online learning wherein the teacher discuss and tackle their lessons via video conferencing to their students.
Aside from the changes that students encounter, employees also made a lot of adjustments during the outbreak of Covid-19. The Philippine Business Coalition for Women Empowerment and Investing in Women commissioned a survey of 300 men and 300 women employees, aged 18 to 60, from large private sector firms and found the following impact of Covid-19 to them:
Work was suspended.
Employees were given reduced hours and pay or were forced to take unpaid leave.
Only 37% of employees could report that COVID-19 had no impact on their job.
A total of 6 out of 10 families lost income.
Over 60% of those affected began working from home.
The business sector also adapts to the changes by shifting some of their workforces to work from home setup.
The changes in the education system, business sector, and work environment rely on the internet to be effective and successful.
INTERNET IN THE PHILIPPINES
As the Covid-19 outbreak became a pandemic, Filipinos find distance learning and working from home part of their new normal.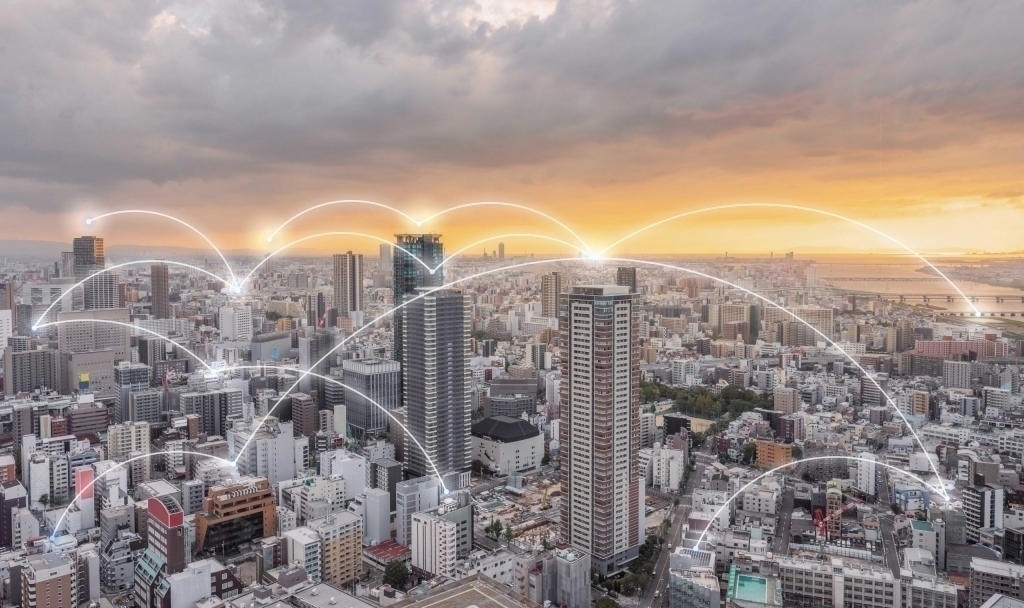 While online learning and working from home is the best option to be safe from the virus, data shows that not all households in the Philippines have access to the internet. As per the data from the National Telecommunications Commission, DepEd said that as of December 2019 that only 67% of the Philippine population have access to the internet.
To date, we have four types of internet connection in the Philippines- DSL, Cable, Wireless broadband, and Fiber Internet.
DSL
DSL or digital subscriber line is the predecessor to dial-up and one of the oldest internet technologies that solely use a local phone line to transfer data and connect to the internet. Primarily, there are two types of DSL connections – symmetric and asymmetric. Symmetric offers equal upload and download speeds, while asymmetric offers higher download speeds and low upload speeds.
DSL is the primary, widely available, and go-to internet connection for basic to moderate internet in the Philippines. DLS connection is good enough for basic internet browsing, streaming, and downloading as it doesn't have a cap.
Normally, it is the most affordable internet connection among the four. DSL speed in the Philippines is up to 20 Mbps with a download speed of up to 6 Mbps.
CABLE
Cable internet generally provides faster internet speed than DSL. Cable uses the same infrastructure and cables as cable TV known as a coaxial cable network. To be able to produce an internet connection with cable internet, the signal is sent through copper wires or the coaxial cable network to your home. Once it reaches your home, your modem provides you with internet through an ethernet cable or a wireless router, giving you wifi.
WIRELESS BROADBAND
Wireless broadband is the most portable internet connection in the country as it has an option to be either fixed or mobile. Wireless broadband can generate internet access as long as the provider's coverage is within the area or location.
Wireless broadbands are normally used as a backup in cases of a power outage or outdoor connectivity. Stability-wise, wireless broadbands are not stable compared with the other internet connection in the country. Aside from this, service providers also set a certain data cap to their subscriptions. The data cap depends on the providers
FIBER
Fiber-optic internet, commonly known as fiber internet or fiber is a broadband connection that can reach speeds of up to 940 Megabits per second (Mbps), with minimal lag time. The technology uses a fiber-optic cable, that can send data as fast as about 70% of the speed of light.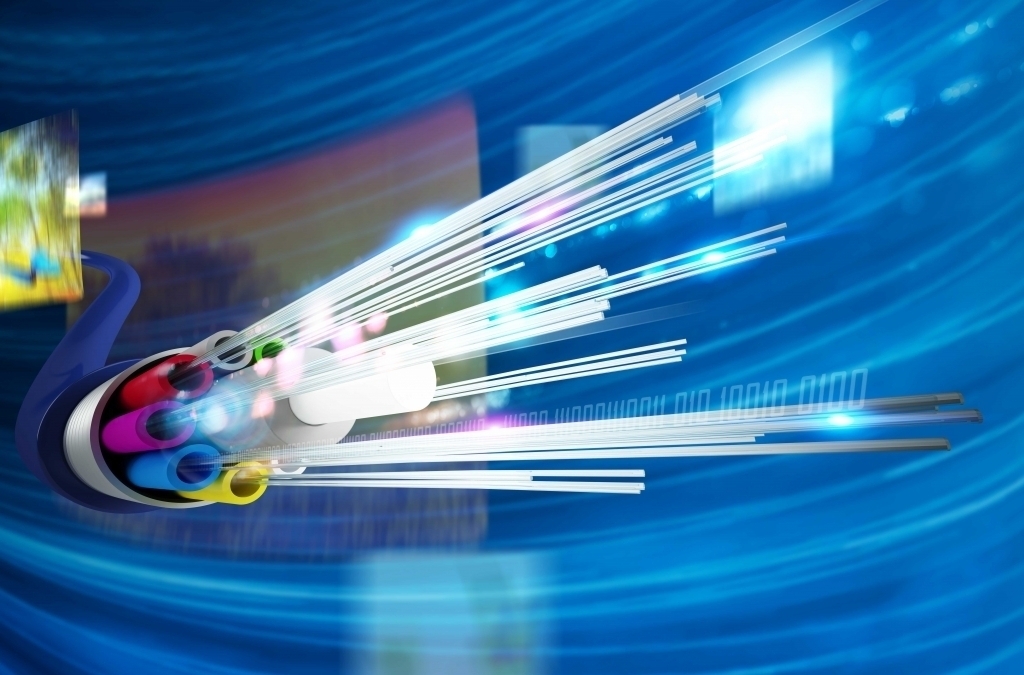 Fiber internet gives internet access using a fiber-optic cable rather than the traditional copper cable. Fiber-optic lines consist of up to hundreds of small strands of glass or plastic cables, each about 1/10th the size of a single human hair. Each strand of fiber cable transmits data using pulses of light that travel at speeds approaching the speed of light.
Fiber Internet speed is three times faster than DSL. Internet providers in the country offer fiber speed that ranges from up to 20 Mbps to 400 Mbps for residential and up to 800 Mbps for business.
In terms of price, there are times that Fiber Internet has the same price as DSL and even lower. Unfortunately, fiber is not yet available to most places in the country.
Among the four types of internet connection in the country, fiber is the most preferred internet connection for distance learning, businesses that rely on the internet and work from home setup as it provides the speed required by the former and latter.
STREAMTECH SYSTEMS TECHNOLOGIES INC.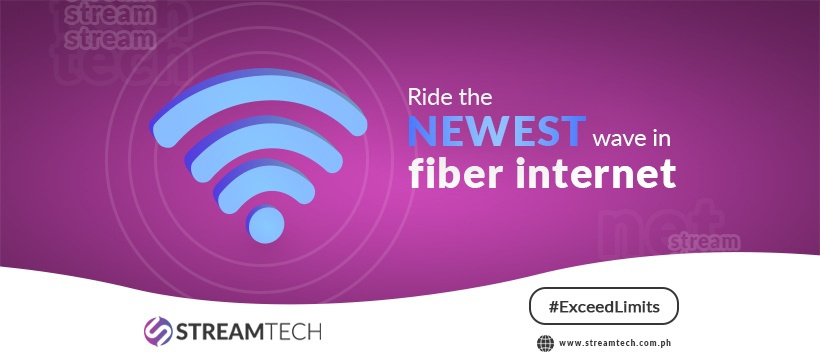 As fiber internet becomes a necessity in the country, different internet providers are sprouting with the promise of providing better internet speed and services. Some of these providers can cater to the whole country, while others have selected coverage areas.
One of these internet providers is Streamtech Systems Technologies Inc or simply, Streamtech. Streamtech is the newest telecommunication company in the country that offers and provides the newest wave in fiber internet.
Streamtech is a member of the Philippine Cable and Telecommunications Association, Inc and has a 25-year Congressional franchise under RA No. 11089, series of 2018 or An Act Granting Streamtech Systems Technologies Inc A Franchise to Construct, Install, Establish, Operate, And Maintain Telecommunications Systems Throughout The Philippines.
With RA No. 11089, series of 2018, Streamtech has the right to operate as a telecommunications company, and maintain the following:
1. Nationwide and international gateway facilities.
2. Wired and wireless telecommunications systems.
3. International and national broadband systems.
4. Mobile and cellular multichannel multipoint distribution systems.
Streamtech also applied for a Certificate of Public Convenience and Necessity to the National Telecommunications Commission or NTC and was granted a Provisional Authority to operate wired and fixed broadband networks across the Philippines.
Moreover, Streamtech has established a strong partnership with both local and Tier 1 global internet upstream providers in the Asia-Pacific and United States routes. Having these connections made the company expand and grow its capacity to multiple Gigabit connectivity and have better network strength by using a fully meshed metro ethernet supporting fiber reach.
Streamtech also acquired a direct partnership with one of the leading international telco equipment manufacturers. This manufacturer will oversee and provide the network equipment and fiber to the home access technology.
To boosts its internet-providing capacity and portfolio of services, which currently include fixed broadband for residential customers and small- and medium-sized enterprises, and direct internet access, Streamtech is in the process of taking over Planet Cable, Inc's internet systems operations in Metro Manila, Regions I, III, and IV-A, Iloilo province, and Davao. Planet Cable is a local MSO or multi-system operator that started in 2020. It provides cable TV services, cable internet, and digital addressable video broadcast.
With this move, Planet Cable will be one of the biggest and technically advanced cable systems in the Philippines. Having its fiber optic internet through Streamtech, it will have the capacity to provide bandwidth and dedicated internet access, leased line, CCTV, and WIFI services to residential, commercial, and industrial users in its franchise areas.
Streamtech's strategic partners include:
TELSTRA
TELSTRA is an Australian telecommunications company that builds and operates telecommunications networks and markets voice, mobile, internet access, pay television, and other products and services.
EQUINIX
Equinix, Inc. is an American multinational company headquartered in Redwood City, California, that specializes in Internet connection and data centers. The company is a leader in the global colocation data center market share, with 220 data centers in 26 countries on five continents.
HURRICANE ELECTRIC
Hurricane Electric is a global Internet service provider offering internet transit, tools, and network applications, as well as data center co-location.
EQUINIX INTERNET EXCHANGE™
Equinix Internet Exchange™ enables networks, content providers, and large enterprises to exchange internet traffic through the largest global peering solution across more than 35 markets.
IPS, Inc.
IPS, Inc provides international telecommunication lines connecting Manila with Hong Kong, Singapore, and many other countries.
IPC
IPC is a trade association whose aim is to standardize the assembly and production requirements of electronic equipment and assemblies.
HUAWEI TEHNOLOGIES CO., LTD.
Huawei Technologies Co., Ltd. is a Chinese multinational technology company headquartered in Shenzhen, Guangdong. It designs, develops, and sells telecommunications equipment and consumer electronics.
CISCO
Cisco is the worldwide leader in IT and networking that helps companies of all sizes transform how people connect, communicate, and collaborate.
DOST ADVANCED SCIENCE AND TECHNOLOGY INSTITUTE
Philippine government's focal agency for R&D in ICT and Microelectronics.
STREAMTECH SERVICES AND PACKAGES RESIDENTIAL
Streamtech offers various packages for different market segments.
UNLIMITED
With the high demand to access internet services, Streamtech offers unlimited data plans.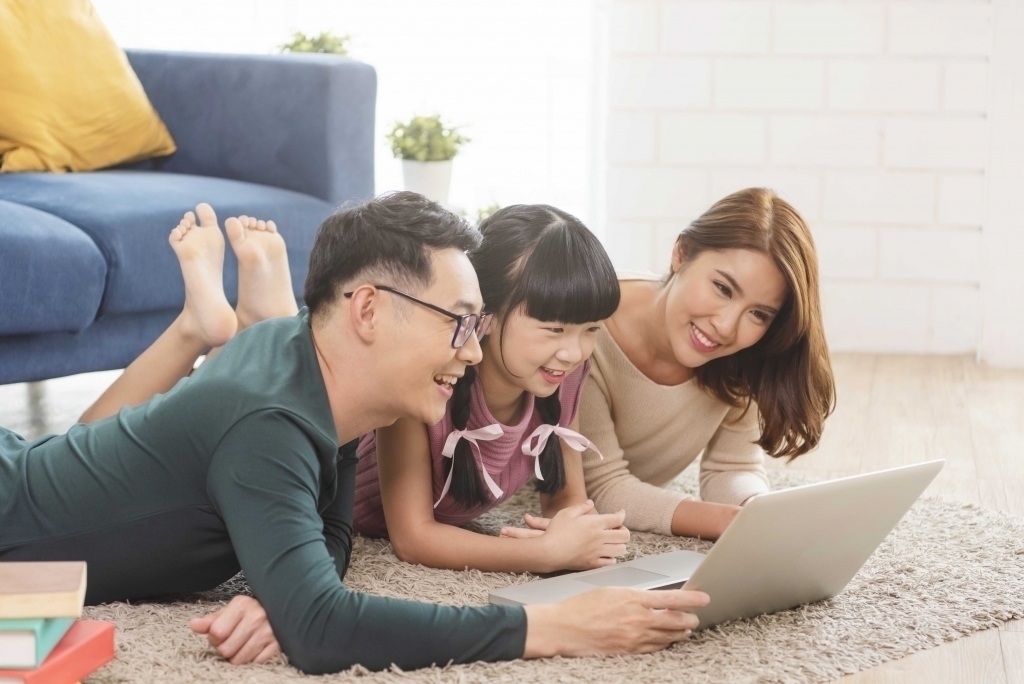 RESIDENTIAL INTERNET
Streamtech offers unlimited and affordable residential internet through HOME FIBER PLAN.
Home Fiber Plan by Streamtech provides an upgraded internet experience from browsing, play, work, and quality video streaming at home.
PLANET CABLE TV PLANS
Planet cable tv plans provides an extensive channel line-up through Planet Cable.
FIBER INTERNET PLANS + PLANET CABLE TV
Fiber internet + planet cable tv provides unlimited and affordable internet with cable tv bundle through Streamtech's digital cable, delivered through Planet Cable.
STREAMTECH SME
Streamtech provides affordable internet that uses fully redundant fiber-optic cable that caters to the needs of small businesses and medium enterprises from data security, shared internet access or SIA to wifi services, and dedicated after-sales services.
STREAMTECH ENTERPRISE
Streametch Enterprise provides dedicated internet access through multiple local and international IP streams that are technically reliable and has multiple fiber redundancies. It also aims to provide clients flexibility with services and offer a reliable technical support team to do quick installation and deliver quality service. Streametch Enterprise has the highest level of fiber internet and data services intended for the use of IT parks, hotels, manufacturing, retail, schools, hospitals, government, and others.
Streametch Enterprise offers the following services:
Domestic Leased Line or DLL– Local connectivity for two or more offices through fully meshed Metro-E.
Dedicated Internet Access or DIA Premium– Dedicated Internet Access with reliable connectivity via multiple local and international IP streams.
Bandwidth On Demand or BOD – Standby guaranteed bandwidth ready to use anytime with baseline subscription.
MPLS– Local connectivity for two or more offices through fully meshed MPLS.
Dedicated Internet Access or DIA LITE– Dedicated Internet Access designed for non-latency sensitive application use and provides specific IP routes.
STREAMTECH PACKAGES
Streamtech offers various packages for different market segments.
EXTENDIFI WIFI EXTENDER
Streamtech's Planet Extendifi is a wifi extender or wifi mesh designed to get the most of your internet connection by making sure that all dead spots or every corner of the house gets a wifi signal.
Extendifi has the following features:
Robust Parental Control – Manage content and control when each device can access the internet.
Assisted Setup – The Deco App helps you easily find the ideal spot to place each unit.
3 years Built-In Antivirus – Protect all connected devices in your home from viruses and malware.
Quality of Service – Prioritize devices and applications for faster performance when needed.
Reporting – Review monthly list of usage, blocked content, and security threats.
Security – Safeguard your home network with a firewall and wireless encryption.
Extendifi Wifi Extender is priced at P7,000.
ZPACKS VLOGGING KIT
ZPacks Vlogging Kit is an add-on product bundled with Streamtech's fiber internet packages. This is available to new and existing residential FIBER INTERNET and FIBER INTERNET WITH CABLE TV subscribers. It includes of the following: Camera (Canon M100) Tripod Microphone.
ZPACKS GAMING KIT
ZPacks Gaming Kit is available to new and existing residential FIBER INTERNET and FIBER INTERNET WITH CABLE TV BUNDLE subscribers. It includes the following: Phone (Huawei Nova 5T) Gamepad Controller Wireless Earbuds.
DIGICLASS
DigiClass is designed for the students' needs in attending an online class. This bundled a bundle of Streamtech residential internet and with All Home. Subscribers can avail a tablet or laptop as an add on product on top of their internet package or purchase a tablet/laptop in participating branches of ALL HOME and get discounted subscription with Planet.
Streamtech is present in key cities and municipalities in the Philippines. To date, they provide fiber internet in Bacoor, and other areas in Cavite, Batangas City, and other major municipalities in the province, Taguig, Las Pinas, Muntinlupa, and many other cities in the country.
Best Broadband Plans in the Philippines
Experience fast connection in your new home! Visit All Properties, the country's top property listing site for ready for occupancy homes and residential lots!