January 7, 2022
Space-saving Room Ideas and Tips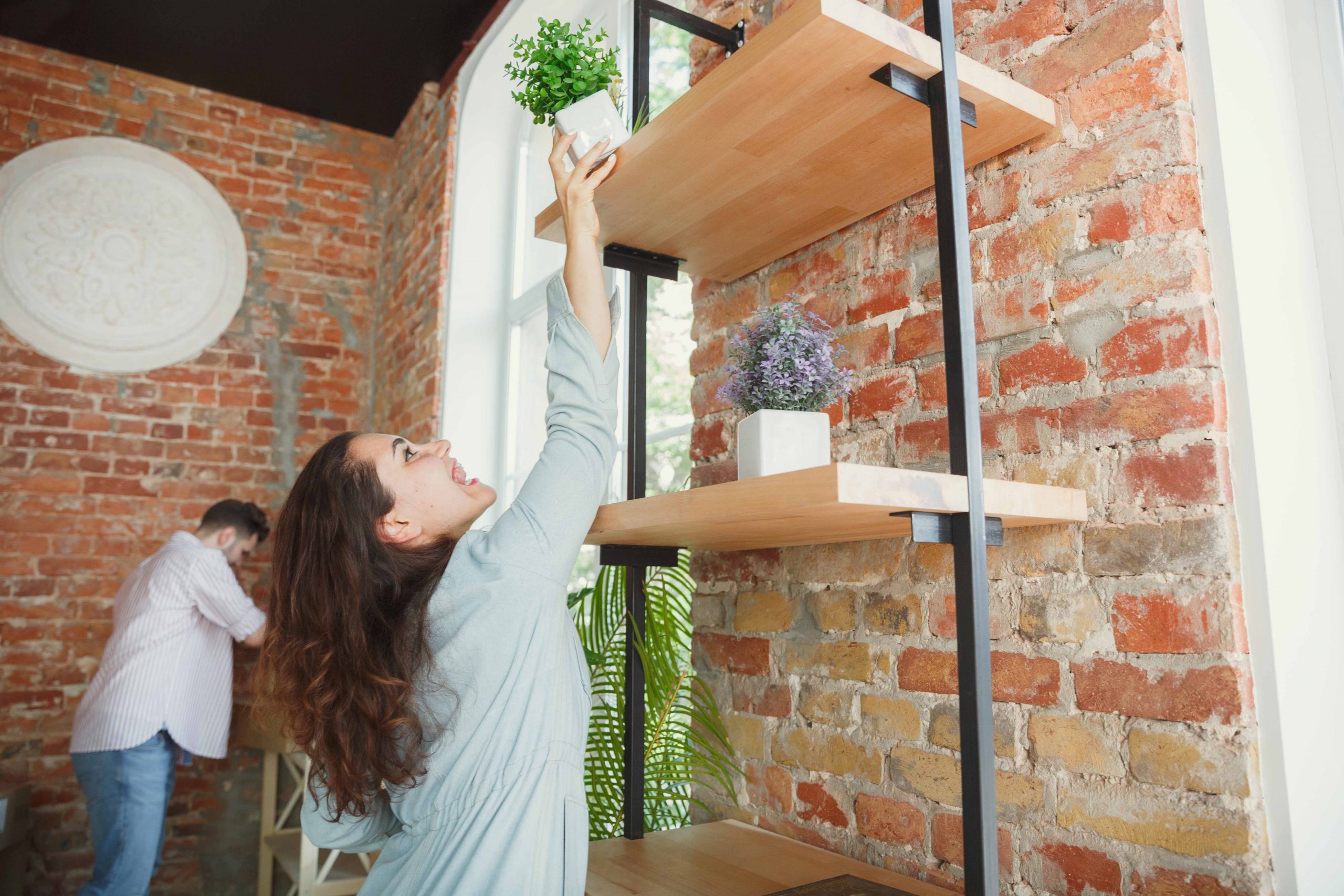 As the cost of houses and lots rises, and contemporary houses, with their clean lines and open floor plans, become increasingly popular, more and more homeowners are seeking ways to make their homes appear larger by using clever and artistic methods that give the appearance of additional space.
Fortunately, today's storage options are more aesthetically pleasing and multipurpose. You may utilize a wide range of furniture, equipment, and materials to create more living space in your home.
SMALL BEDROOM SPACE SAVING IDEAS
Let's start with small bedroom space ideas!
Since the bed takes up the majority of space in a small bedroom, finding somewhere to store all of your belongings may be a real struggle. The best thing to do in situations like this is to use your imagination and every square inch of available surface area to its full potential.
Create a unique look by adding built-ins in your small bedroom. Install shelves or using a bookshelf as a bed frame, create built-in benches, cabinets, and drawers for extra storage and a place to showcase décor and art in difficult spaces.
Also, consider adding a thin drape around the bed to increase the sense of intimacy and coziness in a small room. Use paint, artwork, or wallpaper to give the walls some individuality without taking up much space in your small bedroom.
Make the most of the space you have in a tiny bedroom by using bold colors and bold patterns, but don't go crazy. Also, pay attention to scale, since even a tiny vase tells volumes about the size of the room.
To maximize the space and functionality of your tiny bedroom, you may consider including the following items:
FLOATING SHELVES
Floating shelves are a great way to add more storage space to your small bedrooms. They open up floor space and let in more natural light, making your home appear larger.
It's possible to buy ready-made floating shelves online that only require a stud finder and screwdriver, or you can do it yourself with the right tools and plans.
BEDSIDE TABLE
Small bedside tables come in handy when living in a small area, whether you're looking for a narrow bedside table to save room, a floating bedside unit to keep nighttime items up and out of the way of your bed, or something with lots of hidden storage to keep things neat.
Your choice of bedside table should be both useful and attractive; think about whether you need soft task lighting, an integrated USB outlet for charging your phone, or storage to store your newest book or magazine.
CLOSET SPACE
You also need a well-organized, ample closet to go along with our tiny room. Add the following to your closet to create extra storage space and make it functional and organized:
Clothes Rack
Hanging pants would take up half of your clothing rod. If you put pants and a shirt rack in your closet, you would have extra storage space for some of your stuff. Plus, these space-saving storage solutions eliminate hangers while preventing wrinkles on your clothes.
Hooks on Closet Door or Wall
Behind your closet's back wall or door is a tiny space just begging to be utilized. However, because it is usually covered by clothing, you cannot keep items that you need to access regularly there but certain handbags, messenger bags, or even jackets can be hung on those hooks.
Organizer for Closet Shelves
An organizer for the closet shelves is one space-saving hack used to prevent the accumulation of clothing and small objects such as combs, brushes, hair ties, and hairpins in the closet.
S hooks on Closet Rod
Putting S hooks on a closet rod is a simple method to quickly enhance the storage capacity of your closet. Instead of bulky wooden hangers, use these simple metal hooks to hold a wide variety of pants and jeans.
Canvas Totes
Canvas totes are great for saving space and storing clothes and linens in small bedrooms since they can hold just as many items as plastic crates. They're flexible, so collapsing and putting them beneath your bed, on a shelf, or at the back of your closet is a breeze.
STORAGE BEDS
Although storage beds are the most obvious choice for small bedrooms, they are also the best. While any sort of space-saving bed can help you save space in your tiny bedroom, storage beds often feature the same amount of drawers as a dresser. If you have children, each drawer may be used to store clothing, linens, toys, and books, as well as important paperwork. Ideal storage beds for small bedrooms are:
Platform Bed
Platform beds are becoming increasingly popular compared to traditional beds, especially as memory foam mattresses grow more common.
One of the benefits of a platform bed is that you may make use of the extra space under it. Underneath the bed, platform bed designs commonly have drawers for extra furniture storage.
Another benefit of having platform beds have the unanticipated benefit of making your small bedroom appear larger because of the open vibe they provide. Because platform beds have a low profile, the ceiling in the bedroom seems higher, making the space appear larger. As a result, it gives the impression of a larger space than a typical box spring bed frame would.
Trundle Bed
A trundle bed is nothing more than a little compartment under a regular bed frame or a bunk bed that contains a mattress and a box spring. When you need an extra bed, simply pull out the trundle.
Trundle beds are ideal for tiny bedrooms of children, teenagers, and guests bedroom. With this type of bed, you only need to drag an air mattress out of the closet and deal with the inconvenience of inflating it. They are an affordable and space-saving alternative.
Bunk Bed
Bunk beds have the obvious benefit of saving floor space for small bedrooms. If you stack one bed on top of the other, you'll have two beds for the space of one! As a result, you have more room on the floor for items like a desk, dressers, or even a play area.
Bunk beds also have the obvious benefit of providing additional sleeping space in your small bedroom. With a bunk bed, you can easily accommodate any visitors for sleepovers without anybody feeling cramped or uneasy. Siblings sharing a small bedroom will appreciate having their dedicated sleeping area thanks to this design.
Murphy Bed
Murphy beds, like trundle beds, are popular in places with limited floor space, such as tiny houses, flats, small bedrooms, and studio-type condominium units.
When the bed is not in use, a murphy bed can free up some of your restricted space. Additionally, because Murphy beds are only opened when needed, they give the appearance of larger, brighter sleeping space.
KITCHEN AND DINING ROOM SAVE SPACE IDEAS
A kitchen is a place to chill, eat, hydrate, and unwind. It doesn't matter how big your kitchen is; what matters is that it's a pleasant place to stay and dine in. This is the reason why maintaining your kitchen and dining room clean and spacious is essential.
Here are some ideas for making the most of your dining and kitchen areas:
Cutlery trays are great for storing utensils.
Hang mugs on hooks placed beneath a shelf or cupboard.
Add more cutting areas to your kitchen sink with a cutting board that fits over it.
Utilize plastic containers or huge glass jars to help you get your spices and other cooking ingredients in order. Pour bulk goods into containers to keep ingredients organized and visible.
Add extra storage space to the side of your fridge using a magnetic shelf
A pot rack can help you store all the pans that are currently on the burner or taking up cupboard space. It's a good idea to put it over the sink if your ceilings are low. Taking advantage of vertical space is a key to creating more kitchen spaces.
Organize pots and lids in the cupboard using pan dividers and stacking racks. Place the dividers so that they are perpendicular to the shelf to better arrange baking sheets and pans.
Place risers in cabinets to make use of the extra vertical space. This will help keep things divided so you don't have to dig through a mountain of stuff to get what you need.
A bartender's rack idea keeps your stemware organized and looking good. With this rack, you can show off your wine glasses or store them out of sight for easy access.
Add a shelf above the sink for air drying to free up counter space. It's even better if the shelf is a dedicated dish rack that holds dishes upright.
There's a lot of storage space hidden behind your cabinet doors. Add hooks to hang pans, lids, serving and measuring spoons, or a thin rack to hold pot covers or packs of foil and plastic wrap.
Organize and make stuff accessible by installing rolling shelves with low edges on deep cabinets.
Inside your kitchen cupboards, place a tiny lazy Susan. It can be used to contain spices and oils. You can also put this under the sink to place some cleaning products.
If you can't hide things, at least keep them orderly. Invest in some eye-catching baskets and bins to keep your counters organized.
LIVING ROOM FLOOR SPACE SAVING IDEAS
The living room is where you entertain visitors, spend quality time with family, and sometimes just rest. That's why you need a living room that's both spacious and tidy.
One tick to achieve spacious looking living room is through the paint used in it. Neutral tones like white, cream and grey make your room plan bright, airy, and open. Using light colors will open up tiny living space and make it feel more comfortable and inviting.
Aside from this, if you have a tiny living room, don't try to squeeze in as much furniture as possible. Use furnishings and materials that are both useful and beautiful instead, like the following:
Shelving Unit
Your living room's usable surfaces and tables will be free of clutter after installing a floor-to-ceiling wall shelving unit. This is useful, of course, but it also adds a nice aesthetic touch to the room.
Storage Baskets
Instead of side tables close to seating, use storage baskets in the living area. To keep additional throw pillows close at hand, use large rattan baskets. Save the bulk of your mail, periodicals, and books in a compact vessel. Selecting baskets that aren't all of the same styles keeps the appearance from being too formal.
Open shelves are a great addition since they serve a dual purpose of displaying books and memorabilia while also making frequently used things accessible. Arrange similar baskets side by side on a shelf to keep reading materials, TV remotes, and other memorabilia organized. Extra rugs can be stored in big storage baskets on a lower shelf.
Floating Shelf
Floating shelves are ideal for very little space living room. A two-part floating shelf is durable, easy to assemble, and free of visible supports. These shelf spaces are beautiful and low-cost. They're sturdy even though there aren't any apparent supports, and they elevate the overall aesthetic of a small space room.
Sofa with Storage
A sofa with storage allows you to hide most of the clutter to save some precious floor space in your living room while keeping it close to reaching.
Sofas with storage are not only useful, but they may also add appealing aesthetics to your small space décor. There are several types, patterns, and colors to suit your area and create a stunning appearance.
One of the finest features of a storage couch is that you simply need to close the compartment to keep any clutter out of sight of visitors or guests. This means you won't be embarrassed if the doorbell rings because you can put everything neatly away in seconds.
Storage Bench
Benches with storage make it easier to keep a small space tidy. The bench is intended as a sitting area and one of the creative ideas to save you room space while also allowing you to put other items such as books, storing shoes and clothing, and all your stuff in the living room.
Most benches are wide and tall enough to accommodate most of your belongings as well as the storage cabinet below. If you require drawers, some storage benches have them built-in. There are several storage bench options available, and you may pick the one that best matches your requirements.
Bench with storage can also be used as coffee tables, ottomans, or as a sitting area in the living room.
HOME OFFICE EXTRA STORAGE SPACE
More and more of us are trying to create a permanent workspace in our homes, whether we're doing work from, admin, or encouraging the kids to stay disciplined during online classes and completing their homework. A spare room that may be turned into a study or workspace is extremely unusual in small houses as it sometimes requires more space, therefore making the most of the available space is essential.
Typical home office layouts for small spaces
When it comes to creating an efficient workspace, the size of your home is not always a factor. For example if you're looking for something more spacious than what's offered in most homes then there are some interesting options available!
Sharing With a Bedroom
This is common in small houses. Wherein an employee works in their bedroom and uses a divider to separate relaxation and workspace.
Desk-Against-the-Wall Layout
This is the most common work-from-home layout wherein the desk is against the wall. This setup is perfect for open spaces such as corners.
Pass-Through Space
This work-from-home space layout is for those with limited space and has a space in the house such as hallways or pass-through.
Here are some tips that you can also use to make the most of your home office in small spaces:
Set up a desk from a single shelf.
Make a specific area in your workspace by painting a boundary around it in an open-plan environment.
Wall-mounted storage units such are corner racks and other space-saving units with fold-down sections that will give enough room for a workstation and storage when utilizing all available walls.
Make a clever workplace space out of a smart desk area.
Convert an old cabinet or closet into a home office that you can open whenever you need it to hide your desk. Include a shelf for storage and to keep track of to-do lists, install pin boards inside the cupboard in cabinet doors.
Use a floating desk to free up more floor space. This type of desk is less expensive than standard ones, and it helps keep your office looking more organized.
Office clutter may be kept hidden behind closed doors if you designate a specific storage cabinet, basket, or container for your office necessities.
Make the most of every inch of storage space you have, especially in the vertical space. The only way to design a smart small spaces home office is up, from the bookcases to the wall-mounted storage.
A spacious house takes time to create since you have to clean and look for ideas that may provide space while also giving practicality and elegance to your home space, but once you have finished, you will have a house that is comfortable and enjoyable to live in.
AllProperties
Searching for affordable house and lot for sale by trustworthy builders? Visit All Properties.