January 7, 2022
OFW Buying Guide: Why Buy House and Lot for Sale in Antipolo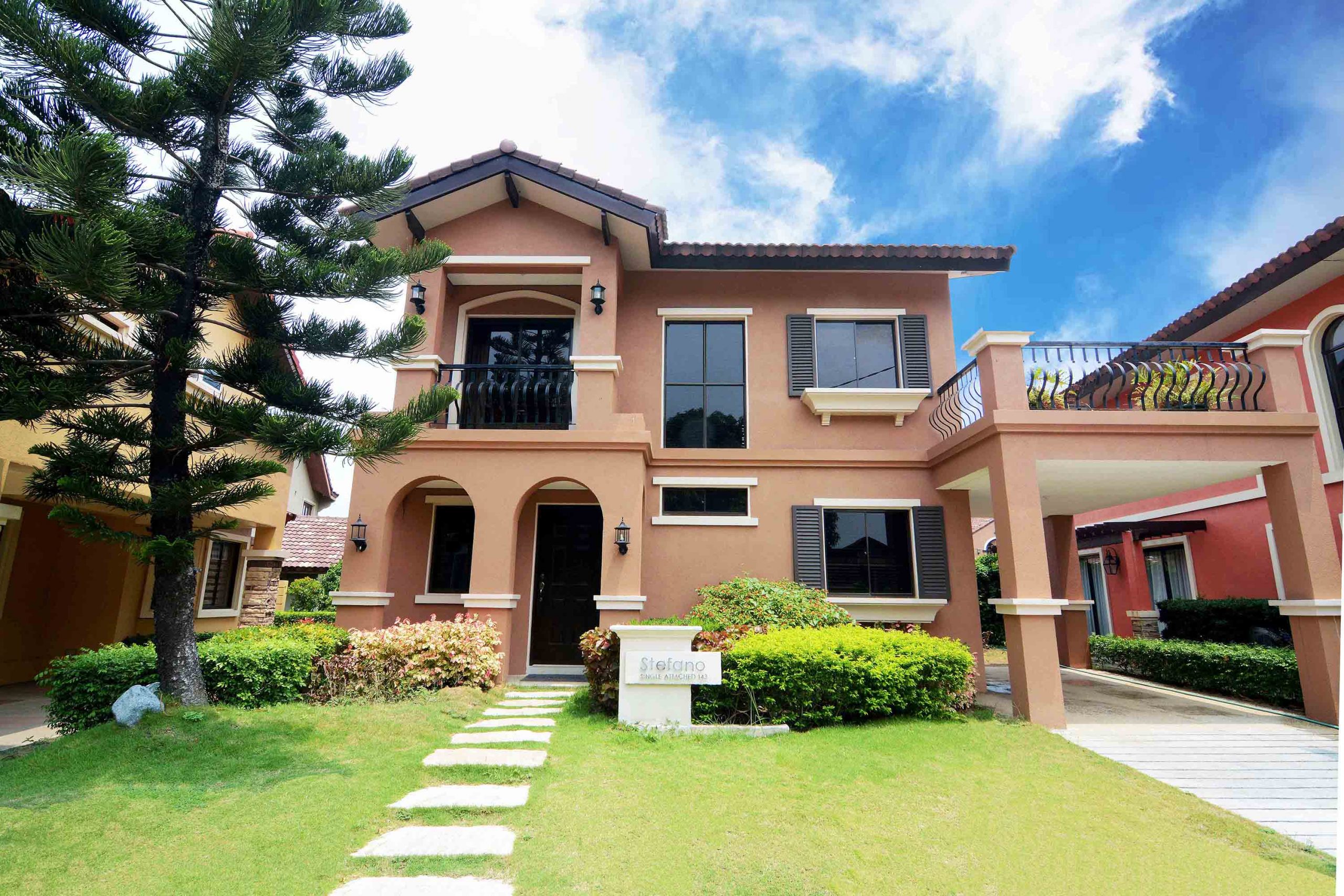 Antipolo, an highly urbanized area and the capital of Rizal province is located in the eastern portion of Manila and is the most populous location in the CALABARZON REGION. It is known as the Pilgrimage Capital of the Philippines as it houses some pilgrimage destinations in the country and one of them is the wooden Marian Image of Our Lady of Antipolo, also known as Our Lady of Peace and Good Voyage. The image of Our Lady of Antipolo is presently housed at Antipolo Cathedral. Every night on April 30th, devotees of Our Lady of Peace and Good Voyage do "Alay Lakad," or foot journey. Devotees present these scarifies to thank Our Lady of Antipolo for all the blessings and answered prayers showered upon them.
Most Filipinos and Overseas Filipino Workers considered buying house and lot for sale in Antipolo for retirement or investment purposes mainly because living in Antipolo is like having a daily vacation because of its pleasant climate and peaceful environment.
Aside from this, here are the six reasons why you should consider buying a house and lot for sale or lots for sale in Antipolo:
ACCESSIBLE TO METRO MANILA AND OTHER PROPERTIES
Traveling to Metro Manila from Antipolo and vice versa is now faster and more comfortable because of the continuous road infrastructure of MRT4 and LRT2 extensions. Normally, it would take a few minutes to go to Marikina, about 30 minutes to get to Pasig from Antipolo, and about an hour to get to Manila through Marcos Highway, but with the aid of MRT4 and LRT 2 expansion, travel time would be much faster.
Aside from this C6 or Circumferential Road 6, which will directly connect Antipolo to Quezon City and the rest of Metro Manila, is also under development, once done this would make living in Antipolo easier and more convenient.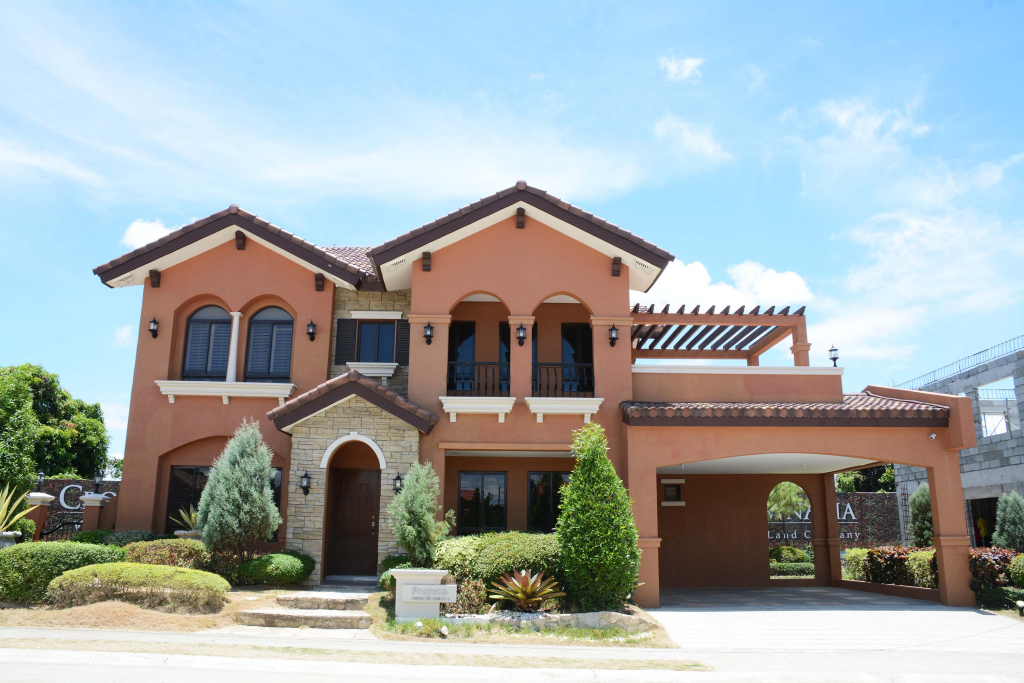 THE COST OF LIVING IS REASONABLE
Antipolo has a relatively cheap cost of living. A family or a couple's average monthly consumption is Php 28,000, whereas a bachelor's average monthly consumption is at Php 25,000. This computation includes food, transportation, rent , and other daily needs or miscellaneous. With this kind of cost of living, purchasing a house and lot would be simple since you could use your leftover family budget to pay your monthly mortgage and fees.
ROMANTIC AND SCENIC VIEW
Antipolo is well-known for its rustic restaurants, private villas or resorts, and other locations with romantic and breathtaking views of the town's steep landscape. This is one of the reasons why many Filipinos visit and live in Antipolo, since viewing, visiting and living in such places may help anybody unwind after a long and tiring day.
Some of the prominent establishments are:
Burrow Café at Antipolo Beehouse
To get to Burrow Cafe, you must first navigate a tiny stairway that leads to an underground cozy and close to nature restaurant with enormous windows, drop ceiling lights, colorful seats, and wooden tables.
Tahanan Bistro
Tahanan Bistro is a restaurant with a traditional Filipino home designed by Benji Reyes, a wood sculptor and furniture craftsman, with reclaimed wood recovered from old houses and bridges. Tahanan is situated on Antipolo's hills, overlooking a large garden, woodland, and a view of Laguna de Bay.
Luljetta's Hanging Gardens Spa
Luljetta's Hanging Gardens Spa, the Philippines' first and only hanging garden spa, features all you need for a peaceful weekend, from spa treatments in tropical-inspired cottages to an infinity pool and sauna. It offers stunning views of the Manila skyline and Laguna Lake.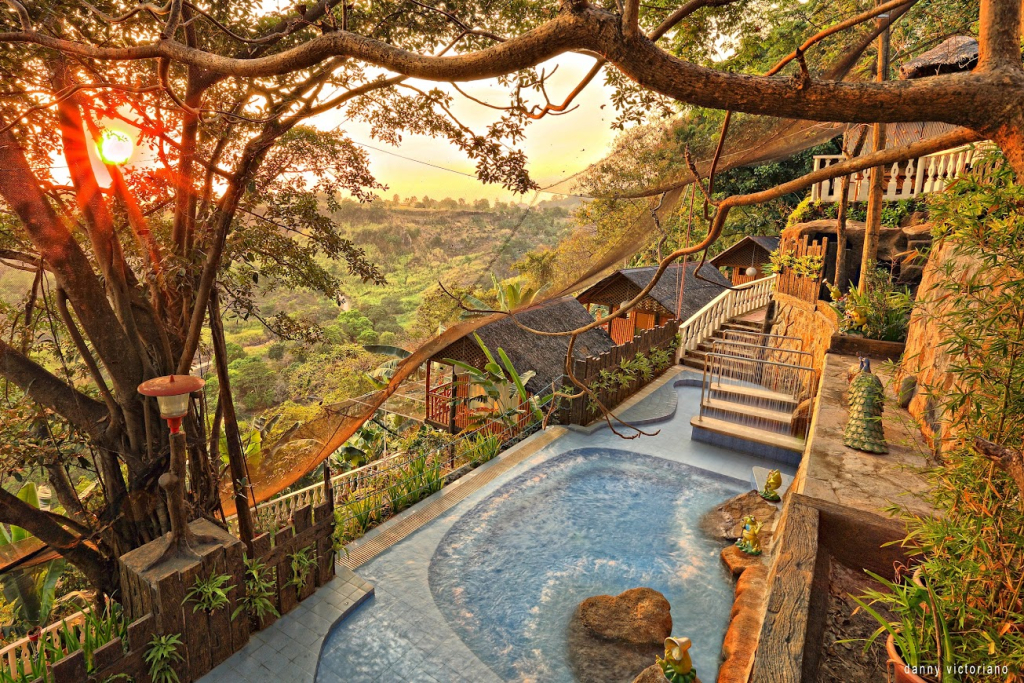 Mount Purro Nature Reserve
Mount Purro Nature Reserve is a family-run eco-park located in the Sierra Madre Mountain Range's foothills. Mount Purro allows you to disconnect from daily routines, busy lives, and the digital world and reconnect with yourself, your family, and your friends by connecting to God and nature through mountain hiking, trekking along the river, or swimming in the middle of the forest, playing, sharing stories, participating in home-cooked meals, gathering around the bonfire, and appreciating the cool countryside breeze under a canopy of leaves and a blanket of stars.
FRESH AIR AND LAID BACK AMBIANCE
Because Antipolo is surrounded by nature and greenery, living here is like taking a vacation every day, with its fresh air and cool breeze. The cold air may be felt in Antipolo daily around dusk, and most especially during the ber months, January, and February.
OF SCHOOL, UNIVERSITIES AND COLLEGES
Notable educational institutions and colleges include Our Lady of Fatima University, Assumption Antipolo, La Salle College Antipolo, and AMA Computer University, all of which provide educational possibilities without requiring students to go to Metro Manila.
ARTS, RELIGION AND NATURE LOVING TOURIST DESTINATIONS
Antipolo is also noted for its breathtaking environment and refuge in local artists' artwork. Various institutions that highlight the ingenuity of local artists and promote Antipolo's stunning surroundings have been developed in the city throughout the years such as the following:
CATHEDRAL OF ANTIPOLO
Antipolo Cathedral is about one hour's drive from Cubao. The Cathedral houses an image of Our Lady of Peace and Good Voyage, also known as Our Lady of Antipolo. The picture was claimed to have originated in Mexico and was taken to Antipolo about 1626. Since then, pilgrims from all over the Philippines have flocked to Antipolo on April 30 to seek advice from Our Lady of Antipolo.
HINULUGANG TAKTAK
Antipolo's Hinulugang Taktak is a well-known landmark. The latter is a waterfall on Taktak Road in Brgy. Antipolo's Dela Paz.
The falls are well-known for their contribution to Antipolo's rich culture and history, in addition to being a well-known landmark. According to Antipolo residents, a priest was compelled to drop a church bell in the plunge pool or water basin of the waterfalls due to the awful sound it makes every time the church attempts to use it. The falls' name was taken from the occurrence – "Hinulugang Taktak," which means "where the bell was fallen."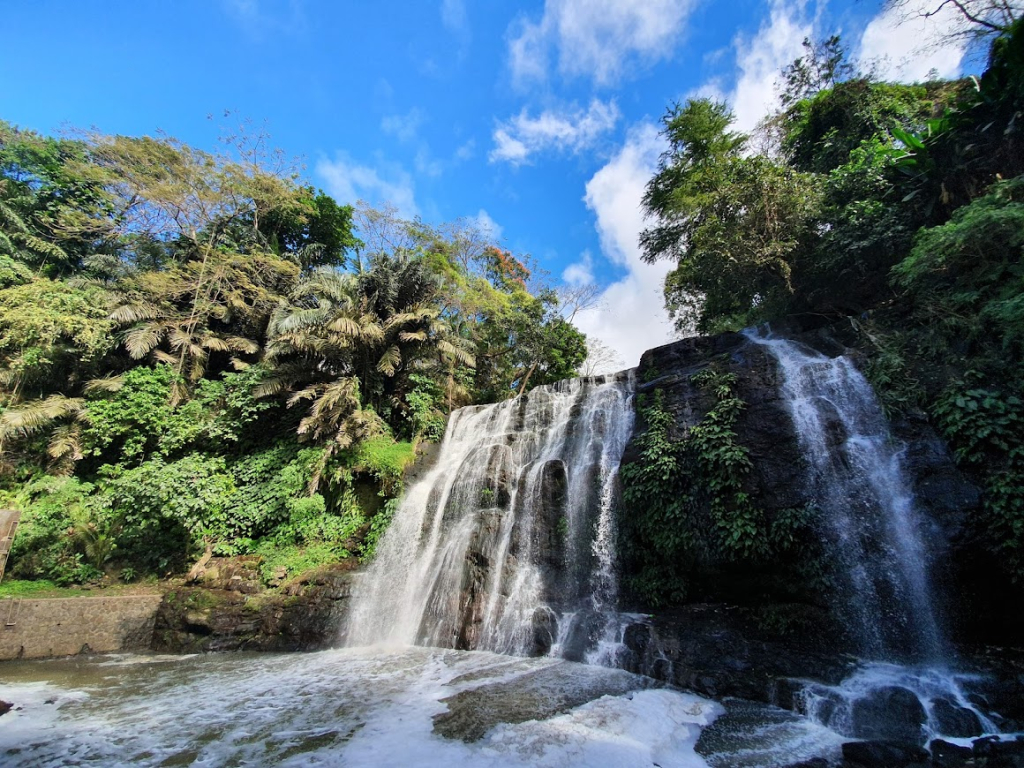 Hinulugang Taktak used to be the closest destination for vacationers in Manila. Bathing and swimming were once permitted in the beautiful waters flowing from the falls. Unfortunately, some of our people take advantage of the falls by dropping rubbish and contaminating the river's waters to the point that no one is permitted to bathe in it.
To date, a park and a view deck have been built to conserve the falls and allow future generations to witness them. The park is surrounded by trees, floral plants, and shrubs. Cottages and picnic tables flank the river for those looking to unwind and have a picnic with their family and friends. For people who enjoy outdoor activities, the park also has a basketball court and a swimming pool.
Pinto Art Museum
Pinto Art Museum is well-known for its Instagram-worthy features and setting, but the Museum has much more to offer than the images you may take while staying at Pinto.
The Pinto Art Museum, as the name suggests, is a doorway to current and modern art. Dr. Joven Cuanang, a Neurologist, assembled all of his artwork and asked other artists to cover his 1.3 hectares of property with sculptures, paintings, and antiques depicting life from the Spanish period to the present.
The Museum is Mediterranean-inspired, with white-washed covered galleries and lush trees, floral plants, shrubs, and hummingbirds around it. Pinto's structure is similar to that of Santorini, making the Museum Instagram-worthy.
The Pinto Art Museum has six galleries that showcase contemporary and modern art, a separate Museum dedicated to Indigenous Art, a Chapel housing 300 antique collections, gardens with beds that invite guests to relax and unwind, a swimming pool, a roof deck from which you can view part of the Museum, and Cafes that serve meals and snacks.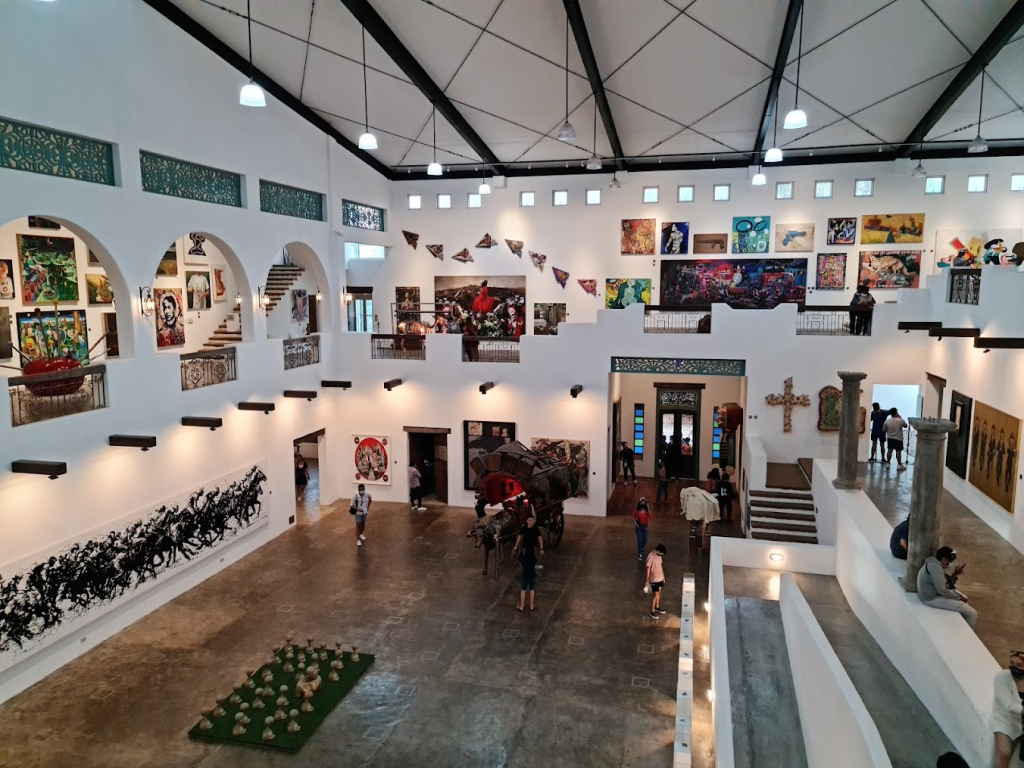 CAFE CRESCENT MOON
Crescent Moon Cafe was founded by the late Chef Bey Fernando. Chef Bey is the spouse of ceramicist Lanelle Abueva- Fernando. He works as a lawyer and enjoys cooking. Chef Bey and his wife Lanelle launched Crescent Moon Cafe, a restaurant and pottery workshop in Antipolo, in 1997.
The café features a calm atmosphere with creative and brightly colored furnishings with Lanelle's artwork that fills the space in the corner.
Crescent Moon Cafe delivers Asian cuisine with its standard menu items. Guests can order a la carte or from the buffet, but they must phone or notify the café ahead of time. Dishes prepared at the café are manufactured with no preservatives or enhancers, are prepared fresh, and are priced based on the number of customers served each day.
THE MYSTICAL CAVE
The Mystical Cave is another holy attraction in Antipolo. People call the cave Mystical because of the shadows and figures made by stalactites and stalagmites inside it, such as depictions of Jesus, the Holy Family, Adam and Eve, Wings of an Angel, and other images depicting Jesus Christ's life and death. Locals also think that the water collected from the mineral formation inside the cave may be used to treat illnesses.
The cave is built into the side of a mountain. To get there, you must climb 205 stone steps built into the mountain. The cave has eight levels. Visitors are currently permitted to explore the cave's surface for safety concerns.
Every Lenten season , visitors and religious organizations from all walks of life flock to the cave to light candles, pray, and marvel at the sacred figures carved inside.
CLOUD 9 360 DEGREE VIEW
Cloud 9 Hotel and Resort is located in Antipolo City. The hotel has 78 rooms, two swimming pools, and seven event spaces. The 360 View Point is one of the resort's features.
To get to the View Point, passengers must cross a suspended bridge that connects Cloud 9's lobby and view deck. Crossing the bridge is difficult since it swings whenever the wind blows and when people leap or make large motions.
Nature enthusiasts searching for a refuge or an adventure will enjoy visiting and living in the province, as it cradles Mount Purro Nature Reserve, a forest sanctuary in the foothills of the Sierra Madre mountain range, as well as Luljetta Hanging Garden and ATV Adventures Rizal.
OPTIONS FOR AFFORDABLE PROPERTY TYPE IN ANTIPOLO CITY
All of the attributes stated above make Antipolo City a great destination for families to live and retirees to reside.
This is also the reason why several developers are selling well developed and low-cost houses and lots in Antipolo. Vista Land and Lifescapes Inc., also known as Vista Land, is one of these developers. Vista Land is the Philippines' largest homebuilder, offering a diverse range of housing goods to meet the needs of every Filipino, including opulent houses, mid-income housing segments, economical low-cost housing, and vertical dwellings. Vista Land is widely renowned in the Philippines for its real estate's brands such as Brittany, Crown Asia, Camella, Lessandra, and Vista Residences.
To date Vista Land has the following community in Antipolo:
Camella Montego
A gated neighborhood featuring 24-hour security, a communal multi-purpose hall, a basketball court, parks, and a playground for families.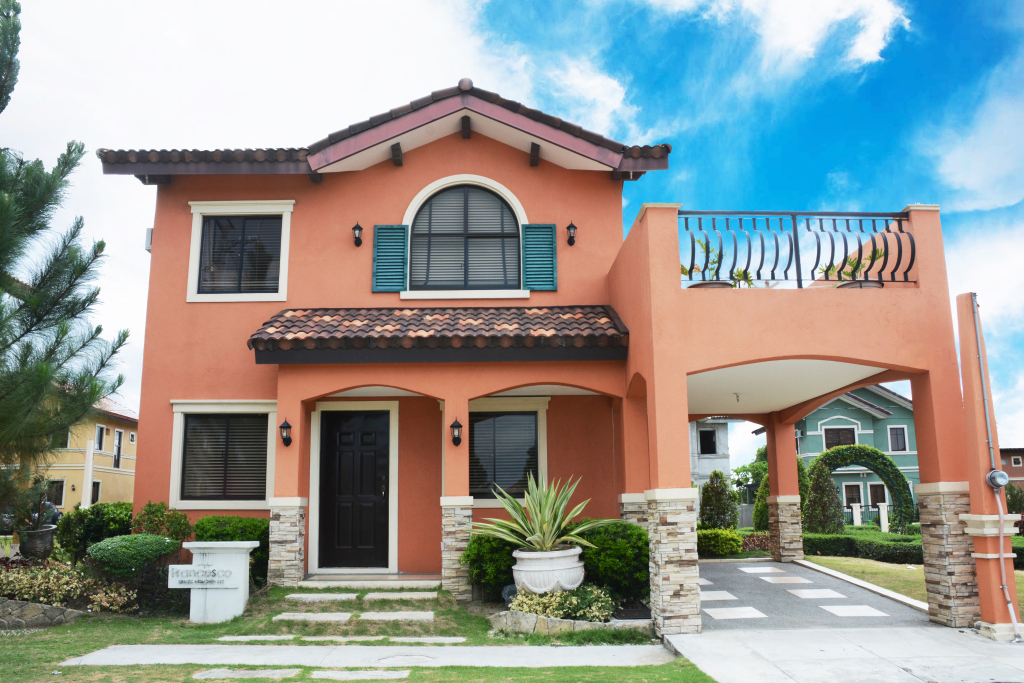 Camella Crestwood
Camella Crestwood is a house and lot development with an American motif that is accessible from Sumulong Highway, Ortigas Avenue Extension, and C-6 in the south.
Camella Crestwood guarantees safety and security by having a secured entrance gate and roving guards 24 hours a day, seven days a week. It also contains a playground, a clubhouse, and a swimming pool.
Camella Sierra Metro East
Camella Sierra Metro East is an eight-hectare house and lot development on M.L. Quezon Avenue is located in Rizal, at the junction of Antipolo and Teresa. It contains a clubhouse with a swimming pool, a covered basketball court, a playground, a bike route, and jogging trails. Camella Sierra Metro East is located 25 minutes from Ortigas Center and is close to malls, schools, restaurants, coffee shops, government offices, hospitals, art galleries, and houses of worship.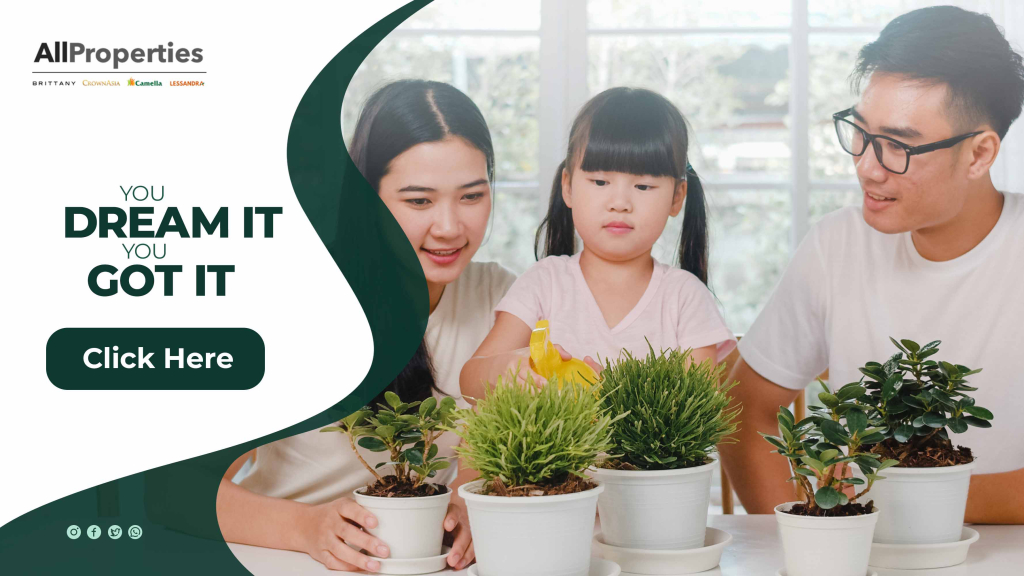 Visit ALL PROPERTIES to see more affordable homes and lots in Antipolo and the surrounding provinces.