January 7, 2022
Make Your Home Ready For Christmas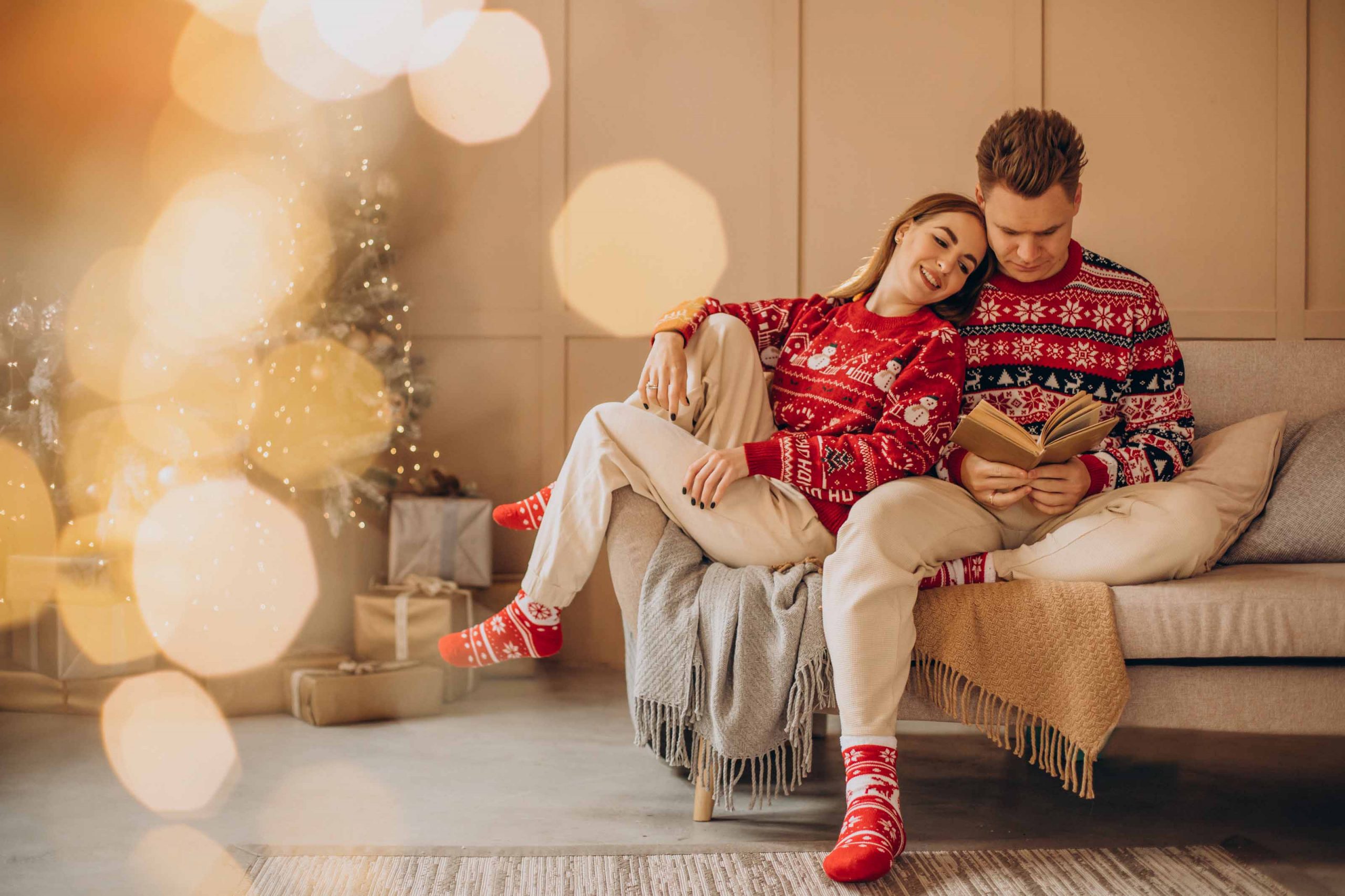 Christmas is the most anticipated season for the majority of Filipinos. Things may be different this year because we can't plan reunions, see one other in person, or hear each other laugh, but as Filipinos, we'll always find methods to hope, treat, and support one another throughout the holiday season.
As Christmas Day approaches, you may find yourself thinking about doing some of our customs, such as putting up a Christmas tree, lights, and other ornaments, as well as preparing Noche Buena and gift-giving.
Now the question is, are you prepared to make your home Christmas ready? If not, here are some ideas to help you get your house ready for Christmas eve.
DECLUTTER
Set aside a day or two before you begin decking the halls to tidy your home. Examine rooms, shelves, and surfaces for items you no longer use or wish to exhibit. Decluttering frees up and leaves plenty of room for Christmas home décor and allows you to visualize and prepare your decorating designs more easily.
To begin decluttering, make a list of items that you do not need or require at all, or just set a time each day per area of the house to declutter.
You can ask your loved ones to help you out with decluttering and gathering items that can be upcycled or recycled. Here is the list of items that you may consider to declutter:
Food that has passed its expiration date. Keep an eye on your other food while you're hunting for expired stuff. Make sure you are aware of what is about to expire and what you need to utilize. Also, give whatever you know you won't need.
Old magazines and newspapers that you can either recycle or ask if a nearby doctor's office or salon if they would want to have them for their waiting room.
Used books. Make it a point to give books that you will never read or refer to again.
Cards from the past. If they have no sentimental value, throw them away. If you still have too many, consider scanning them and storing the photographs on a hard drive rather than retaining the physical card.
Medicine that has passed its expiration date.
Manuals. You can probably get rid of the majority of them because there are typically online versions that you can download. If you can't download it, save it because you never know if the online version will be available when you need it.
Kitchen utensils you never use. We've all had those kitchen gadgets that look cool but seldom get used. Pass those on to someone else who will benefit from them.
Ill-fitting clothes Even if you do reduce weight, you will most likely want to purchase new things. In addition, ill-fitting garments frequently make us feel self-conscious.
Plastic bags. If you have more than you'll need, recycle them or check if a friend with a dog needs them for poop bags.
Pens and markers that have dried.
Old boxes.
Clothes that have been damaged. Try to repair them or create rags from them, or give them away.
Calendars that are no longer in use. There's no reason to keep them.
Old eyeglasses. A backup pair is a nice idea, but you don't need a dozen.
Toys that have been broken. If it can't be mended, get rid of it.
Old gadgets. If no one is using it and it still works, donate it; if not, recycle it
Old paint.
Mugs. We all tend to accumulate far too many mugs. Get rid of the ones you seldom use.
Old shoes. Get rid of them if you've replaced them or you never wear them.
Organizers you don't use. They don't help you keep organized if you don't use them.
Phone directories. You're probably going to look up numbers online anyhow, so reuse them.
Purses and wallets Get rid of any that you don't use or are worn out.
Water bottles, keep them to a manageable number.
Shoes that are painful to your feet. If they hurt, you're unlikely to wear them.
Notebooks that have never been used
CHOOSE A CHRISTMAS THEME
After you've decluttered and created space for your Christmas ornaments and decorations, you should decide on a Christmas theme for this year. Bring the Christmas Spirit to a whole new level.
Here are some Christmas themes and tips to think about:
The Traditional
This evergreen Christmas season theme combines red and green hues sprinkled with charming holiday décor and decorations for a timeless appearance. Christmas is a jolly and festive season so don't be scared to add colors to your home, from the front door to the bedrooms!
Midnight Blue
The Midnight Blue Christmas theme is comprised of rich, jewel-toned items with a concentration on gleaming golds and deep royal blues. For this motif, a blue Christmas tree with white and blue Christmas lights is a fantastic choice.
Christmas at the Seaside
It takes typical beachy motifs like anchors, starfish, lighthouses, shells, and more and gives them a festive twist.
Christmas in Pink
This rosy Christmas theme is a feminine, blush pink-focused collection with boho-chic undertones. A pink surrounding creates an inviting space perfect a quality time with your family members. Add some rose scented candles for an extra calming experience.
Elegant Christmas
Every Christmas tree is decked out in silver and gold! Modern fashion-forward elements with elegance, sparkle, and shine are included in the beautiful Christmas décor.
Christmas in Silver
This theme features silver with a flash of another favorite hue, such as white or red. In silver and red motif, a red Christmas tree would be ideal.
Animals for Christmas
Hedgehogs, deer, owls, foxes, peacocks, teddy bears, penguins, rabbits, and wolves are among the prettiest Christmas critters to decorate your house this season.
Christmas Decorations That Are Minimalist
Display simple, classic Christmas garland and wreaths that may be utilized all season long. These items can even be used in traditional settings. There are also minimalistic artificial tree available in the market.
BUY CHRISTMAS TREE, DECORATIONS AND FURNITURE
Now that you've settled on your Christmas theme, it's time to go shopping for Christmas decorations.
If you are in Manila, you may purchase Christmas decorations and ornaments at the following shops and stalls:
Pinoy Sikat Handicrafts
Pinoy Sikat Handicrafts has a booth along Quezon Boulevard selling inexpensive, locally produced Christmas handicrafts. They have both indoor and outdoor decorations.
Address: 215 A Quezon Blvd., Quiapo, Manila
Unique Novelties and Toys
Unique Novelties and Toys is a one-stop-shop where you can find Christmas trees, garlands, flowers, balls, and LED lights, among other items, saving you time because you can buy everything you need in one visit. They also provide a large selection of Christmas trees in a variety of colors, sizes, and ornaments.
Address: 15 Zorra Street, Barangay Paltok, San Francisco Del Monte, Quezon City
Christmas Factory
Adorable life-size figures for bigger areas or garden figurines may be found at Christmas Factory, which is known for selling huge figures made of polyresin, a type of plastic that can be carved into sturdy designs, and fiberglass, a plastic reinforced with glass.
Address: 565 AH Lacson Street, cor. F. Jocson Street, Sampaloc, Manila
Dapitan Arcade
The Dapitan Arcade is a series of bazaars in Quezon City that sell inexpensive decorations for Christmas or general house usage. It's the place to go for frugal buyers who want to check costs before adding to the basket.
It's also a great spot for individuals who enjoy putting effort into their Christmas trees, as there are a lot of ornaments in there.
Address: 37 Dapitan, cor. Kanlaon Street, Quezon City
HOW TO SET UP LIVING ROOM FOR A MERRY CHRISTMAS
Proper lighting is the simplest way to set the tone for your Christmas celebration. Red and green lighting accents come to mind when you think of Christmas but you may also use colored light bulbs or even color-changing LED bulbs.
Proper lighting is the simplest method to establish the tone for your Christmas celebration. When you think of Christmas, you think of red and green lighting accents. You may use colored light bulbs or even LED bulbs that change color.
Christmas tree string lights, which are available in a range of colors, contribute to set the mood. Multicolored lights are among the most cheerful. String lights may be strung over windows, across walls, and around poles and railings. Some others even drape light strings around the borders of all the tables.
If you want something a bit more whimsical, search for string lights with interesting shaped bulbs. If it is related to the theme, you can use stars or hearts.
Add some candles to the mix if you want to go for a more sophisticated appearance. Individual candles should be placed on tables or incorporated into centerpieces. Candles look nice on the bar and in other areas of the room as well. Just make certain that they are not in high-traffic locations as they are more prone to be pushed over if they are not properly supported.
You may also incorporate visual interest into the space by draping tables and chairs in red and green linens. Use patterned linens for a more refined effect.
No Christmas celebration is complete without beautiful holiday centerpieces. You might go for a Christmas floral arrangement made of real or beautiful ceramic flowers in seasonal hues or ceramic and mechanical Santa Clause that dances and his reindeers.
Candle arrangements and balloon arrangements are other choices. You may also arrange bowls, plates, and utensils with Christmas decorations.
Without certain natural decorations, the holidays would be incomplete. Include wreaths and garland, maybe adorned with red bows or beautiful Christmas decorations. A few sprigs of mistletoe hung here and there wouldn't hurt, either.
The Christmas tree is both a welcomed and expected element of the holiday season. You have the option of placing one large tree in the center of the venue or several smaller trees scattered throughout. As for table centerpieces, you may arrange small trees on each table.
The Christmas tree's decoration is determined by your theme. Some individuals choose for an exquisite look, with clear lights and gold or silver embellishments. Others prefer a more conventional tree with colorful lights and a variety of homely decorations. There is no incorrect way to decorate a Christmas tree, what matters is you have fun decorating it.
HOW TO SET UP KITCHEN FOR HOLIDAY SEASON
Aside from the living room, the kitchen is one of the busiest places in our houses during the holidays, so it needs a festive makeover. Begin with your tablecloths.
Set up a Christmas table runner or tablecloth to last the entire holiday season. This tablecloth or runner can be pure red or green, or it can have Christmas icons like Santa, reindeer, elves, or Christmas trees on it or depend on your theme. You can even accomplish the same thing with placemats placed at each seat; just make sure the mats match the rest of your linens. This will look perfect for the Christmas dinner.
Then, add colorful and festive touches to the remainder of your table. Make a one-of-a-kind centerpiece by putting pine cones or greenery in a beautiful bowl, or by erecting a shallow wooden box with string lights inside. You may also decorate the table with Christmas candles, character figures, and sprigs of holly.
If you don't have any additional Christmas decorations in your kitchen yet, starting with the hand towels might help you establish the tone.
For example, if you pick Christmas sentiment towels, you may include various feelings around the kitchen through wall art and other means. If you choose solid-colored towels, you will have greater freedom in decorating the rest of the room.
If you've already decorated the rest of your kitchen, you may easily select hand towels that match the rest of the decor. To bring the design together, try to match the towels with any Christmas canisters or other tabletop decorations you have on the countertops.
Decorate your shelves with Christmas-themed plates and other items to make your room appear particularly festive and cheery.
Display holiday plates on stands alongside other decorative dishes such as Christmas-themed bowls, trays, and canisters, whether you have floating shelves or a kitchen shelf wall unit. Some of these can even be used as practical items while others are presented as decorations.
Other decorations on the shelves, such as candles, Santa figures, miniature Christmas plants and flowers, and any other accents that complement the color scheme, are welcome. Filling up your shelves will result in a visually appealing sight.
Aside from the living room and kitchen, you may also decorate your bedroom with garlands or Christmas lights that you can hang on the bedroom doors.
Looking to find your perfect home? Visit AllProperties and browse through hundreds of listings on house and lot for sale near you!