June 6, 2022
Level Up Your Work From Home Space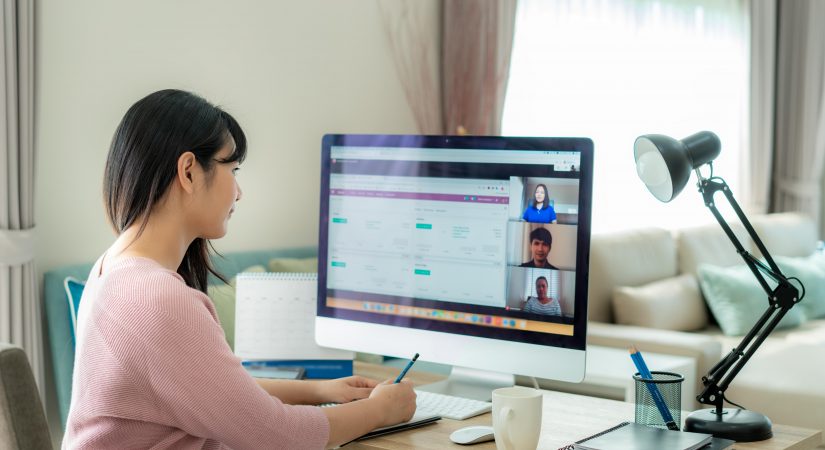 A lot has changed during the pandemic. From how we communicate and show affection towards our family and friends to the travel protocols and how we dress up when going out.
Different industries are affected that some established companies were forced to lay off employees and some, unfortunately, closed. To avoid this scenario, companies resorted to working from home set-up.
WORK FROM HOME
Before the pandemic, work from home set-up was for freelancers. Most of the former are employees who are productive and focused when not in the office.
With the pandemic, Philippine companies are now trying to embrace the work from home set-up. This is why more Filipinos are starting to either renovate their houses or makeshift an empty area into a work from home space.
Filipinos are also finding benefits from working from home such as:
Work-Life Balance
Work from home jobs usually has flexible schedules. The employee can start and end their day on their chosen term as long as the task is complete and leads to the desired outcome.
Having control over the work schedule can provide more time for the personal needs of the employee. They can make use of it to spend time with the family, run errands, and attend to their fitness needs like attending online fitness classes or workouts.
Less Travel
An average travel time from one city to another during rush hour (7 AM to 9 AM and from 5 PM to 9 PM) in Metro Manila, is around one to two hours with at least 15 to 30 minutes being held in a traffic jam. With this, an employee loses around three to four hours of their precious time because of traveling.
With work from home set up, an employee doesn't need to travel to go to work and struggles with daily traffic that consumes time and effort.
Location Independence
One of the considerable benefits of working from home is having access to a wider variety of job opportunities despite the geographic location. These opportunities can be helpful for those in the provinces where there may be few open local positions and for people who are not comfortable staying in the Metro.
Having no job location means that fully remote workers could also travel and live where they want as long as they have the minimum requirement or set up for their job.
Savings
Employees who work from home can save gas, car maintenance, transportation, parking fees, clothes, dine-in and out meals, and more. Other work-related expenses can also be reduced or eliminated. These savings add up and put more money back into your pocket.
Employers also save from this kind of set-up. They can save on the overhead, real estate costs, travel expenses (for companies that provide either cars or ride-hailing services such as Grab), and maintenance.
Environmental and Sustainability Impact
Working from home also reduces greenhouse gas emissions and carbon footprint because of reduced commuter travel and fewer people are using cars to go to work.
Remote work supports sustainability initiatives, from economic growth and reduced inequalities to sustainable cities, climate change, and responsible consumption.
Customizable Work from Home Space
Creating a comfortable work-from-home office is an excellent benefit of remote work as an employee can set up or make a house and lot renovation that will suit his needs and wants at his home office.
Benefits of Customized Work From Home Space
Increase in Productivity and Performance
Setting up your home office by either renovating or using a space in your house or lot enables you to personalize it based on your needs and wants. Later on, lead to an increase in performance and productivity because of a comfortable, safe, and secured work area.
Healthier Work Life
People who work in a place they can call their own or those who can work comfortably at their own pace and space are happier because of lower stress levels brought about by distractions and politics that come along with an in-office job.
Setting up your workspace is also beneficial in a variety of ways as it can provide:
More time for physical activity.
Less exposure to illnesses.
Ease of caring for a health issue or disability.
The option to create a comfortable and ergonomic workspace.
WORK FROM HOME ESSENTIALS
Desk
Choosing a desk is vitally important. It is also an excellent investment as most of the task is done and accomplished on it, from typing, calling, and writing.
Select a desk that is wide enough for the computer and anything else necessary to do your work. It should also be not too high to avoid eye strain and fatigue.
Ergonomic Chair
Investing in a desk is essential, but getting an ergonomic chair is more important.
Ergonomic chairs were designed a little more elaborate than simple office chairs. These chairs address weak and pain points in the human body by giving more support and comfort.
An ergonomic chair that fits work-from-home set up should:
Has lumbar support and a shape that supports the lower back.
The height of the chair and the armrests are adjustable to avoid fatigue, eyestrain, and muscle aches.
The chair can be moved around or has wheels to prevent strain when moving around and reaching for things.
Laptop and Laptop Stand
A laptop gives more flexibility than a stationary desktop. Laptops can be placed in your desired working area at home and when traveling or going to a coffee shop.
Nowadays, what matters to employers is that the laptop specs, such as storage space and RAM, are more than sufficient to run a daily task.
Aside from a laptop, it is a must to have a laptop stand. Using a laptop without a stand for a period can lead to posture problems that might eventually result in neck and shoulder pain and constricted muscles.
A laptop stand elevates the laptop screen closer to eye level which will stop you from hunching forward. Aside from this, having a laptop stand will reduce the airflow problems connected with the laptop placed on a flat surface.
Monitor, Keyboard, and Mouse
Spending more time facing the computer screen requires having a larger monitor to work with the laptop. It can improve productivity and save time, especially when working on multiple programs that need constant switching.
Having a secondary screen allows organizing the tabs and programs better, and it makes cross-referencing data easier.
When using a laptop and a laptop stand having a mouse and keyboard to use is a good investment as the laptop's keyboard, and trackpad can cause wrist injury and posture problems.
High-Speed Internet
The number one requirement for a work-from-home setup is high-speed internet.
High-speed internet is the ones capable of daily remote tasks such as video conferences, coding, design, video editing, and emails compared the regular internet browsing or usage.
The most common internet requirement in the Philippines is up to 10mbps upload and up to 25mbps download.
It is a must to look for a provider that has a fast internet package when starting a work-from-home setup.
Noise Cancelling Headphones
The challenge of working from home is to eliminate distractions such as sound coming from the TV, people inside the house, and other noises that can distract your concentration or the client you are talking to during a video conference or call.
Noise-canceling headphones help to get into the work zone and avoid unnecessary noises when you are on a call.
Lighting
The lighting of the workspace should also be considered when setting up a home office. Improperly lit workstations or uncomfortable positions can start to eye strain and headaches.
Green Plants
Having plant at the home office and as you work can:
Improve air quality.
Reduce stress.
Make your office environment more pleasant.
A couple of plants in the area can also make it a breathable space.
Office Stationery
When setting up you're working from home space, having an organizer, storage boxes, and stationery items is a good investment.
These items can be bought in bulk at a low price. They are worth stocking because you will need to use them in executing your daily tasks.
Home Office Stationery Items Checklist
Printer paper
Pens
Pencils
Highlighters
Notebook or legal pad
Post-it notes.
Binders
Folders
Stapler
Staples
Staple remover
Scissors
Paperclips
Document sorter/holder
WORK FROM HOME DESIGN TIPS
Having a perfect work-from-home space may seem easy, but it requires leg work and sometimes, a house and lot renovation.
To design a work from home space, you need to consider the following tips:
Make a Floor Plan
A floor plan is a great way to organize your thoughts and to make sure everything has covered all your bases of your work-from-home space. You can create a floor plan easily online or through the help of a professional, especially when you are planning to renovate your house.
The average size of work-from-home office space for full-time remote work (30 to 40 hours per week) is about 50 t0 150 square feet, while part-time or hobby work average space size is 20 to 50 square feet.
The most common work from home space layout is:
Home Office with a View – on this layout, the desk is positioned near a window.
Sharing with a Bedroom- this is common in small houses. Wherein an employee works in their bedroom and uses a divider to separate relaxation and workspace.
Desk-Against-the-Wall Layout- this is the most common work-from-home layout wherein the desk is against the wall. This setup leaves room for extra seating.
Pass-Through Space- this work-from-home space layout is for those with limited space and has an empty space in the house such as hallways or pass-through.
It is also a must to create furniture layouts and floor plans. Decide what pieces of furniture to add and determine what part of the house will work as your home office before you shop for your home office space.
Location
Work-from-home space comes in many different shapes and sizes as it depends on the requirements and demand of the client and the available space in your property.
A work-from-home space can be a separate room, a corner, or a space in the living room.
The key in selecting the right work from home space is:
Think about where and when you do your work.
The requirements of your client such as making lots of calls.
The noise and disturbance.
Enough Space
It is a must to make sure that you allow enough space to operate in your area to work comfortably or easily move from one side to another and stand up and sit back from the desk.
Professional designers use to layout a workstation that allows at least 60″ (150cm) in width and 84″ (210cm) in depth. Others, on the other hand, choose a room at the house where there is less distraction. Then renovate that room as a personal work-from-home space.
Desk and Chair
On the checklist mentioned above, choosing the right desk and chair for the home office is vital as it can affect one's health.
Select a desk that is wide enough for your computer and anything else necessary to do your work. Ideally, a desk should be 48″ (120cm) wide or
60″ (150cm) wide or larger.
An adjustable-height desk may be ideal to use but not practical for a work-from-home setup. A desk that is not too high – 28″-30″ (70-75cm) is an acceptable range.
The chair, on the other hand, should at least be ergonomic. Ergonomic chairs are designed a little more elaborate than a simple office chair as they are created to address weak and pain points in the human body by giving more support and comfort.
Storage and Shelving
Make sure to include enough shelving, filing cabinets, or cupboards in your work from home space for storage needs. Doing so can avoid clutter in your workspace.
You can also add a desk organizer to have a filing system nearby and keep your current work within reach.
Space to Accept Visitors
Members of the family might want to check on you once in a while, so allot space in the area where you can have a small meeting or chitchat with them. Having this is more ideal when you have clients or customers who want to visit your workspace at home or have a meeting.
Add seating in your home office design to allow sit-down meetings. You may add one to two comfortable chairs that can be easy to pull on the desk.
Natural Light and View
Good lighting is important for any work from home space. To get good lighting, you need to look for a location in the house where there are some natural light and a view like the garden if possible. Place your desk facing the windows or where there is a view.
You can also add translucent window shades or blinds that help reduce harsh light without darkening your room. You can also add a mirror and paint the wall with natural colors to enhance natural light.
For general lighting, you may add an overhead ceiling light, or a pair of open-top floor lamps placed in the corners of your room. A desk light can also be added to provide shadow-free task lighting and extra light in the evenings and some full spectrum daylight bulbs in the light fixtures for an extra boost.
If you can't locate a space with a view, you can place your desk to face the door, add some plants, a piece of artwork, or a vision board. Doing so will relax your eyes and have something to focus on when you look up from your work.
Technology
Wires hanging from the desk and running everywhere make your personal space cluttered. To make sure that they are organized or hidden, you can take control of your technology with these manageable tips:
Add a wireless router to reduce half of your wires.
Invest in a wireless printer and a wireless mouse.
Add a grommet to your desktop. Grommet will direct wires from your desk down below.
Attach wires to the bottom of your desk or down the desk leg.
Gather loose with a clip cord organizer.
Accessorize and Personalize!
The best thing about working from home is you get to decide or personalize your space.
You can paint the walls based on your preference, with your favorite color scheme, the color the relaxes your senses or colors that inject energy in the room.
You can also add pieces of artwork, your collection, or photos that inspire you.
You can also add homey accessories to boost the comfortable feeling of your home office.
Personalizing the home office not just brightens your day but also enables you to work comfortably and be more productive.
If you are looking for a suburban, safe, secured, and well-developed community, where you can start your work from home profession check out All Properties.
All Properties offers online property listing for ready homes, and lots for sale under one of the country's biggest and reputable real estate companies, Vista Land and Landscapes' subsidiaries, Britanny, Crown Asia, Camella, and Lessandra located in Ilocos Sur, Pampanga, Pangasinan, Antipolo, Cavite, Iloilo, and Cebu.