June 6, 2022
Landscaping Tips and Design Ideas for Beginners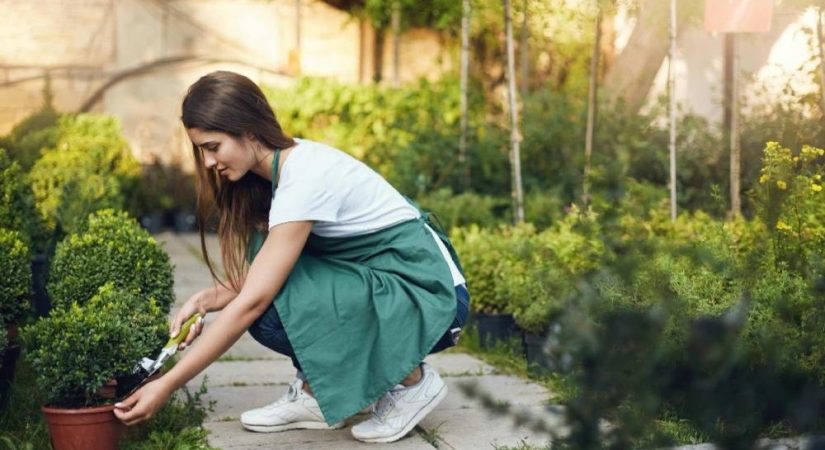 Landscaping is a task that incorporates both science and art. A landscape professional can help you transform your property if they have horticultural knowledge as well as familiarity with the elements and principles of landscape design.
Modern landscape design ideas is a process that involves making changes to a piece of land in one or more of the three categories listed below:
Plants
The addition of ornamental, edible, native, or other types of landscaping plants to the landscape.
Terrain
Changing the shape of the land by grading, backfilling, mounding, terracing, and other methods.
Structure
Fences, patio covers, walls, decks, raised planters, and other built features are examples of structures.
The most common mistake that do-it-yourselfers make is rushing into the construction phase without a plan. Landscape plans translate ideas into visuals and ensure that scale and layout are considered before construction.
Your landscaper will design a plan for your yard that meets your needs and addresses common landscaping issues such as slopes, wind, sun, and a lack of space.
Landscape Design Ideas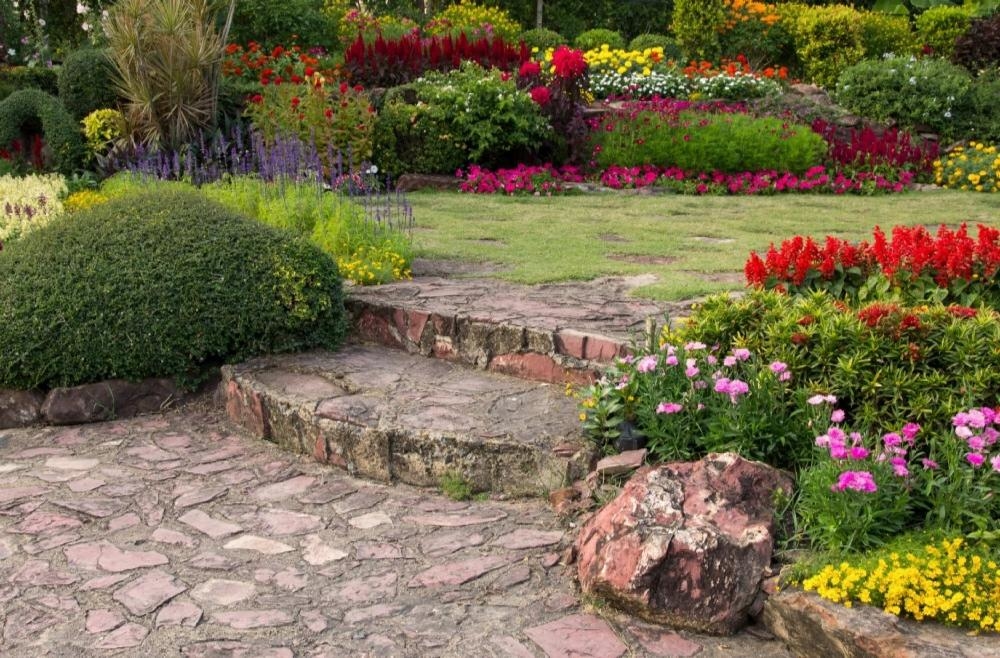 Understand your yard landscaping surrounding.
The first landscaping tip you should consider is to know the amount and duration of sun and shade exposure in your yard will most likely create a microclimate. Microclimates are typically classified as full sun, partial shade, shade, or deep shade; consider your landscape's microclimate when selecting plants for your landscape.
Consider the topography of your site as you plan; take note of how water drains in your landscape. The best landscape design will direct water away from your house and into other areas of your yard.
Examine the sun and wind patterns as well. You might want to put a patio on the west side of the house, but it will get a lot of afternoon sun, making dinnertime in the summer season uncomfortably hot. A fire pit will be quickly extinguished if wind whistles around a corner.
These are some of the most common mistakes made by beginners in backyard or front yard landscape design. Your design should consider what the sun and wind do at various times of the day and year.
Figure out who will be using your yard.
Make a list of your wants and needs.
Will your yard be used by children? Do you have any animals? Will your yard landscaping focus on your front yard or your vegetable garden? Do you want to host outdoor parties in your yard and want to have an outdoor kitchen? Would your family enjoy getting together on a patio or do you want a vegetable garden? Do you want to improve your curb appeal? or Do you have a green thumb and want a garden design with trees, shrubs, flowers, native plants, and water features such as fountains? Also, think about your maintenance style and budget. Try to be as realistic as possible. How much time will you have to devote to your landscape? Or, if you won't have the time, will you be able to pay someone else to do the work? How much money do you have to put into your landscaping? Remember that you can use strategic plantings and hardscapes to create different spaces for different uses in your landscape.
Make some rough sketches of your yard with ideas for where you want to put things; it's a great organizing principle for beginners in landscape design.
Consider what landscaping ideas or themes to use.
A theme can help to unify your landscape and guide you to the right plants and materials to use. Do you want an outdoor kitchen, curb appeal, front yard, or water feature landscaping? Themes can be as simple as repeating shapes or forms throughout your yard and lawn, or as complex as recreating an inspiration.
When deciding on a theme for your yard, take a look at the architecture of your home. If your home's architecture is country, you should use landscaping that complements it. If your house has modern architecture, use a modern approach or design for your lawn or front yard. Try to complement the lines and style of your home's architecture in your yard; after all, your yard is an extension of your home.
Themes can help you decide where to put plants, decorations, hardscapes, and structures. Do you want the landscape to be entertaining? Do you want your space to have grass with softer lines and a more natural feel? Do you want a landscape with neutral colors? Do you want a water feature like a fountain or a small pool? These types of questions will assist you in deciding on a unified theme for your garden.
Begin your yard landscaping slowly.
True, some might complete outdoor makeovers that can happen in just three days, but they have a large crew to handle the heavy lifting, which most beginner home gardeners do not have. Slowly developing a plan and enjoying the process are both important parts of creating a landscape you'll love.
Begin with small flower beds from your grand plan. If you have the time, go out and work on it for an hour or two, and don't worry about filing everything right away.
When you have time and budget add some furniture, change your front door to glass, add plants and flowers based on your garden or patio design or front yard landscaping plan. Focus on your plan, you may begin slowly but you can finish your landscaping process based on what you truly like.
Make your plants work for you.
Determine how your plants will function in your landscape early in the planning process.
Plants can be used in a variety of ways, including providing fresh and delicious fruits and vegetables, beautiful scenery, delightful aromas, and much more. Plants can be used as barriers to define areas within your landscape and to indicate where it ends.
Plants can be used to create physical barriers in your landscape by obstructing both views and access to a specific area. Low-growing plants can be used to create implied barriers, blocking access but not the view, if you want to keep your views open but maintain some barriers.
Correctly placed plants can also be used to change the conditions of your landscape site. The trees and plants in a landscape have a large impact on temperature, light levels, and wind. The noises in your landscape can be affected by what you put into the design, such as water features or birdhouses, as well as any physical barriers that keep your garden insulated from noises outside your landscape.
Plantings should be organized.
When choosing plants, keep your various visual planes in mind. Starting with the area above you, consider the overhead plane, which may include archways and trees.
Moving on to the vertical plane, consider how closely or widely plants will be spaced, how plants will be layered or staggered, and the individual and massed heights and widths of your plants.
Don't overlook the ground plane. By repeating similar shapes and structures in your garden, you will achieve a unified look throughout your space.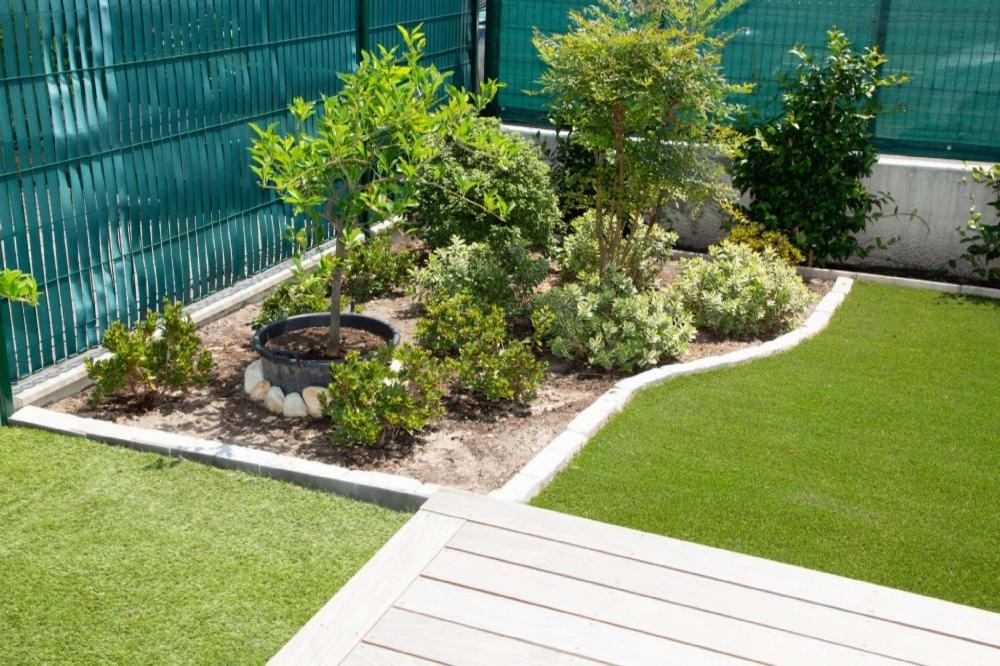 Set up Water Features
The focal points of good landscape designs serve as anchors. Using water features as focal points is one of the hottest trends. This is one trend that has "sound" reasoning: water features are not only visually appealing, but they also emit soothing sounds. They're also a lot easier to install than you think, thanks to pre-formed rigid plastic liners, long-lasting pumps, flexible tubing, and low-cost fountains.
Include Hardscape.
Don't limit yourself to just plants when it comes to do-it-yourself landscaping. Include hardscape elements as well. They, like evergreens, provide structure in winter and much more. As they frame your property, walls and fences make an important design statement.
Driving through the countryside, you may notice how much more "finished" the properties with fences appear. Other important hardscape features include decks and arbors. Patios and decks serve as transitional spaces between the indoors and the outdoors.
Keep your resources safe.
You can help protect and preserve your environment by selecting resource-efficient plants, managing water wisely, and installing environmentally sound hardscapes.
Before you remove plants from your landscape, consider whether they need to be removed or if they can be relocated to another part of your yard. Look for resource-efficient trees and plants that require low water fill, fertilizer, and pesticides when purchasing new plants.
Consider installing a rainwater catchment system to provide an environmentally sustainable source of irrigation water when planning changes to your landscape. A system of this type can even be used as an aesthetic design element with careful planning.
Another way to protect your natural resources is to use environmentally friendly hardscapes, non-toxic preservatives, stains, paints, and cleaners.
Consider reusing construction materials; before you begin demolition, think about what materials you might be able to reuse, repurpose, or incorporate into your new landscape design.