June 6, 2022
Bungalow or Multi-storey: Which is Better?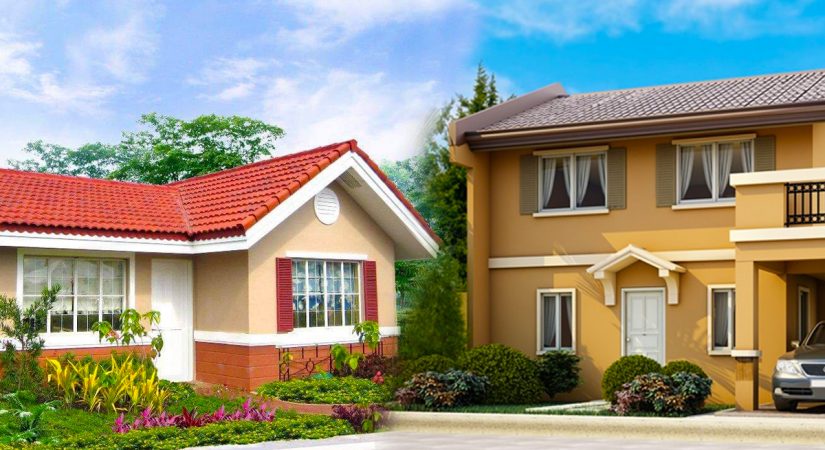 Owning a house provides a sense of pride and ownership. These are some of the main reasons why Filipinos either buy residential lots and build their dream houses or buy ready for occupancy house and lot for sale.
Having a house or shelter to live and grow in is one of our most important necessities as it protects us from heat, rain, and other harmful entities in our surroundings. A house is also a place where we can rest, spend time with the family, and have a peaceful, relaxing time after a stressful day at work.
A house can range from a simple hut to a structure of wood, concrete, or other material that fits the personality, lifestyle, and budget of its owners.
Types of Houses in the Philippines
In the Philippines, the four types of houses where Filipino family lives are bungalow, multi-storey house, townhouses, and condominiums.
A bungalow is a single-storey house or does not have stairs. Bungalows usually have or are characterized by sloped roofs, open floor plans, large front windows, and broad front porches or verandas. These houses are seen in subdivisions and villages and are popular residence choices of small families or young couples and people who are having a hard time taking the stairs like our grandparents.
Multi-storey houses are houses with two or more floors. Typically, these houses have the dining area, kitchen, and living room on the first floor while, bedrooms, bathroom, and entertainment area are on the other floors. Multi-storey houses are best for a family of four or more.
Townhouses, on the other hand, may seem the same as multi-storey houses but they have lots of differences. Townhouses are two stories or higher and designed to fit small land areas. They are grouped in a row and share common boundaries or walls.
Townhouses have windows and doors on the front while the back part of the house are walls. The side walls are also solid and are made alongside other townhouses in a row with a similar floor plan and design.
A multi-storey house, on the other hand, is a free-standing house that has no shared walls or boundaries and is bigger than townhouses.
Lastly, a condominium or condo unit is a house within either a mid-rise or high-rise residential building. Condominiums are built in big cities where more people want to stay near offices or business districts for convenience and avoid traffic.
Bungalow or Multi-storey Houses
When buying house and lot for sale or building a house, Filipinos usually choose between either bungalows or multi-storey houses. Choosing between the two usually causes a dilemma to the household as some prefer the former and others want the latter. But which one suits a Filipino household?
BUNGALOW
Advantage
Filipinos consider buying or building a bungalow house as it offers many benefits to households especially if they have seniors or family members with mobility limitations.
The one-storey layout of a bungalow provides an ideal living environment for seniors as they can easily go from one place to another without having to go up and down the stairs.
This is the same for individuals with mobility limitations such as people in wheelchairs. Living in a bungalow house can allow them and their family members to move around easily and comfortably.
Bungalow houses are also considered child-friendly houses as there are no chances of having the young member of your family tumble down the stairs which is a common fear for many parents. Children can also roam and play around the house comfortably.
Another reason why a lot of Filipinos are buying and building bungalow houses is its open plan concept where it provides a bright, spacious, and open feel layout which is opposed to other types of houses in the country wherein some might feel cramped and gloomy. Having an open space layout also accommodate more expansion in the future.
Bungalow plans are also simple and are easier to redesign or do some modification. There is also no issue with the structural design and the floors above making it the best design for someone who wants to extend their houses into a multi-storey when funds become available.
Bungalows are usually constructed in large lots which enables bungalow living to offer a lot of privacy compared to townhouses where you can sometimes unintentionally hear or can be heard by your neighbors.
Disadvantage
Along with the advantage of bungalow living, is its disadvantages which includes:
No separation between rooms- Living in one-storey house can mean that there is no division between the living room, dining area, and kitchen. This can exhibit issues with noise that can easily travel through the house and may cause issues to children trying to sleep or other members of the family that are sensitive to noise and requires a quiet space.
Security- Since bungalows have a spacious lawn it is a must to make sure that every corner of the lot is secured. That is why most people living in bungalows have either dogs or security cameras installed.
Vulnerable to flood- Every year typhoons pass by the country. Some of which are tolerable, and some can cause a flood. Having a one-storey house can be vulnerable to flood as it can easily enter the house.
MULTI-STOREY HOUSES
Advantage
One of the benefits of living in a multi-storey house is to have a living space that can be doubled, even tripled, or depending on the number of house floors, compared to a single storey house or bungalow that is built on the same land area.
Building the house upwards can maximize the yard space by not having to build a wider home to get a decent amount of living space.
Multi-storey homes also allow a division or boundaries in the living space such as separation between the bedroom, bathroom, and entertainment area on the second floor while the dining room, kitchen, and living room are downstairs. Having better division enables to lessen noise around the house as each member of the household has their own space where they can do relax, rest, less likely to be disturbed when sleeping, and have privacy.
Having more space can also break the traditional house layout because the members of the household can have the chance to move the kitchen and dining room or include additional living rooms, entertainment room, and study area on the upper floors.
Living in a multi-storey house can also provide the ability to witness wonderful views every day especially if you are living near the beach or in high places like Camella Crestwood Heights in Antipolo, Rizal. Camella Crestwood Heights is a Spanish -Mediterranean-inspired community with an elevated topography that gives its homeowners the ability to witness a marvelous view of the metropolitan skyline and evening lights daily.
Disadvantage
A multi-storey house can cause accessibility problems for seniors and people with mobility issues, such as those who have injuries or disabilities, having troubles going up and down the stairs, or people in wheelchairs. Aside from this, stairs can also present a safety risk to children.
A multi-storey house may also come with design limitations because the ground floor must structurally support the other floors.
In terms of budget, building or buying a multi-storey house can cost more than bungalows as a strong foundation, walls, roof, and the rooms aesthetics should be considered.
Where To Buy or Build a Bungalow or Multi-storey House
When investing or looking for ready-made houses and lots for sale, it is a must to get them from a reputable developer to avoid different scams and schemes done by people who pretend to be the developer's representative or seller.
Good thing online property listings platforms are now available and one of them is All Properties PH.
All Properties offers property listing for ready for occupancy house and lot for sale, and residential lots for sale under one of the country's biggest and reputable real estate companies, Vista Land and Landscapes, Inc.
Vista Land is the largest homebuilder in the Philippines that offers a wide range of housing products that cater to the needs of every Filipinos from luxurious houses, mid-income housing segments, affordable low-cost housing, and vertical residences.
All Properties help future homeowners find a house and lots for sale in key provinces and regions on the rise in the Philippines. Some of which are from Vista Land and Landscapes' subsidiaries, Britanny, Crown Asia, Camella, and Lessandra located in Ilocos Sur, Pampanga, Pangasinan, Antipolo, Cavite, Iloilo, and Cebu.
With All Properties, you can get your dream house and lot in a well-developed community through the help of professionals.
As Metro Manila becomes congested more and more Filipinos are looking into moving to nearby provinces to build or buy their dream houses. Among these provinces, Cavite, Pampanga, and Antipolo are the top three home locations near Metro Manila.
CAVITE
Filipinos who want to buy houses and lots outside Metro Manila often look for the provinces in the country where they can still easily access or go to Metro Manila and where they can also look for firms and business that can work with. One of these provinces is Cavite.
Cavite is a fast-rising real estate and business hotspot in the country as a lot of Filipinos are considering moving here because it is near Metro Manila and transportation infrastructure such as Skyway, South Luzon Expressway, Cavite-Laguna Expressway, and Cavitex are being made.
In Cavite, Vista Land and Landscapes developed real estate properties that offer storey houses such as:
Camella Dasma at the Islands – a first-class house and lot development designed for high-quality living,
Camella Tierra Nevada– an impressive 100-hectare estate that provides comfort and elegance all within the privacy of a gated neighborhood.
Bella Vista– a 59-hectare master-planned community that is accessible to amenities such as parks and playgrounds, different road networks, and commercial lifestyle centers.
PAMPANGA
Like Cavite, Pampanga is also another province in the country where Filipinos living in Metro Manila consider moving as it is accessible to Metro Manila and other provinces in Central and North Luzon through NLEX, North Luzon Express Way, and SCTEX, Subic-Clark-Tarlac Express Way. Pampanga also has an international airport where both local and international trips are available.
Pampanga is one of the ideal provinces in the country for business as taxes here are lower and less congested unlike in Metro Manila.
In Mexico, Pampanga Camella Sorrento, an Italian-inspired exclusive house, and lot development offer a residential lot for sale. Here you can build your dream bungalow or multi-storey houses.
ANTIPOLO
Living in Antipolo feels like you are on vacation as it gives the benefit of living in a place surrounded by nature and at the same time within proximity to the city.
Residential Lots for sale developed by a reputable developer such as Vista Land and Landscapes that are available in Antipolo where you can either build a bungalow or multi-storey house are available in:
Mia Alta- developed by Crown Asia, a subsidiary of Vista Land and Landscapes is a master-planned, secured, and private Italian-inspired subdivision.
Camella Montego – gated community with family amenities, a 24-hour security detail, a community multi-purpose hall with basketball court, parks, and playground.
Camella Crestwood– Spanish -Mediterranean-inspired community with a marvelous view of the metropolitan horizon and twilight.
Bungalow or Multi-Storey House?
Choosing the right type of house still depends on the needs, lifestyle, and budget of the homeowner. Those who have limited land area can find multi-storey houses beneficial unlike those who have a wider land area where building a bungalow house can be advantageous. Some might find bungalows beneficial because of their open and spacious layout while others prefer to have a division of areas inside their house. Some can also feel secure in a multi-storey house while others might think that they can value their privacy more in bungalow living.
In terms of budget, building or buying a simple multi-storey house can cost less than a big bungalow, but if the room sizes are the same, a storeyed house will cost more.
Choosing between the two is hard but if the house that you will build or buy meets the household needs or requirements such as the number of bedrooms and bathroom, layout of the house, convenience, safety, and comfort that house would still be the place best to live in.