June 6, 2022
Art: A Game Changer in Everyone's Home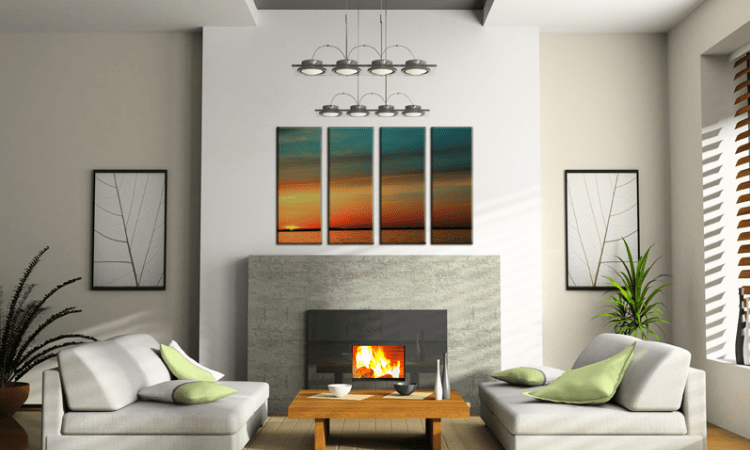 They say it takes talent to produce a masterpiece, but even if you don't possess such talent, you are creative enough to make one. When it comes to art, everyone is involved. Age? doesn't matter. Art gives us the ability to express ourselves, and even if you don't paint and draw, you have the creativity inside of you. Well, we all do. Tho art has got something to do with EVERYTHING, it is most needed at home. Don't you think so too?
Introducing art to your home can change many things, from perspective, moods, atmosphere, space, vibe, aesthetic, you name it. I'm pretty sure there were times you stood in a gallery where you imagined this art hanging on your wall or this statue sitting pretty in your garage.
THE ART and THE HOME
They say home is the best place in the world, and home is where we go whenever we're tired, and we need comfort from an extended weekday. So if you're in the mood or aim to beautify your home, may it be the living room, or any part of your house, art is one of the choices you should choose.
The freedom to design your own house is one of the many advantages of buying a ready for occupancy house and lot for sale in the market.
Why do we need art in our homes?
From a simple perspective, we need art in our homes to beautify our walls, bring color to our spaces' dull sides, or just a decoration to add to make our room look packed. BUT if you realize there's more to it, including emotional, mental, and social benefits to you and those around you.
Art engages people to develop other skills, coordination, creativity and, helps express emotions from people, and is a good healing choice for the stressed one. And it is also a trick to make your home look spacious.
When moving into a new home, your walls may be pure white or just a concrete wall. Rented or not, you sure don't like it simple, or the color of the door seems like you're going inside a horror house, and it doesn't complement the colors of your walls outside.
Art is Growth.
Some people express their love for art by buying paintings, figurines, posters, statues, etc., and even paint and use it as decoration. You are making it a hobby, not only for the creative ones. It can nurture everyone's mind.
When it starts to be more than a decoration, and it challenges us intellectually, it pushes us to think for ourselves and the better. It gives us a reminder to question our thoughts and what's in front of us.
Art is the foundation of the home.
While it is said that our homes are from the creative minds of people who invented them a hundred years ago, no one can deny that art is the foundation of every aspect inside our home.
From the walls to the faucets used, to the colors used in the walls, to the texture of our ceilings, and many more. Art makes a home more unique, dreamy, or more human.
By looking at the piece of art or in the house, you can see and sense its creation's effort, skills, and aesthetics. And if you're still wondering why art is the foundation of the home, well, it's the things that bring life into a room.
Art is Protection.
Dust to Dust, particles to particles. Even the slightest change in the color of your wall can significantly impact the settings of your freshly bought house and lot. And with all the small things not visible to our eyes, painting the walls is essential protection from allergens.
Dust, dirt, and grime go through your walls a lot, but with a new coat of paint and a little decoration here and there, your home will be kept clean.
WHAT-ART and WHY-NOT?
We look around our house and think of where we could put artwork. It can create a focal point for everyone, and it will instantly draw the eye. It can bring texture and a positive vibe. It can enhance the interior design and improve the palette of your home.
One advantage of having a piece of art inside your house is, it makes the room appear finished. What does it mean?
There could be a plain white wall waiting in your living room, and you don't have the time to change the colors, but putting or hanging a piece of artwork can change the look and even make it look finished. Or a grey-concrete wall, placing in installation art can make it look like you're in a museum.
There are thousands of tips on how to beautify your home. Well, it could be a figurine, tapestry, or a great piece of wall art? Why not! Here are the top 5 tips of what art you can use to accentuate your home:
1. PAINTING
Hanging wall art is one of the favorite ways to accentuate your home's interior; it could be a painting of a pet, nature, sunset, you, or anything.
Except for the endless list of types of painting and its medium, hanging a painting seems classy, dreamy, and mysterious. But beware, not all paintings can exude positivity; that's why it's always safe to go with nature and sunsets or sunrise. It's relaxing to look at and can enhance your walls.
2. POSTERS
It may sound old when people say, a poster art, because many people like the vintage one. But having poster arts is a big must.
Aside from the different images or a series of galleries you can put, it holds a value-adding sense of pride when it comes to your interior. And if you're into vintage items and collecting stuff, poster art is a good choice for making your room classic.
3. TAPESTRY
You'd think tapestry is only for royals. Well, I suppose you might be wrong. Although there are many designs that you can choose to improve your interior, hanging a tapestry is one of the classic ways to style your living room or bedroom.
Thus, making you feel like a royal and a unique approach in home design.
4. STATUES & FIGURINES
The most common decoration in homes you can find are statues and figurines. It may be common, but the way it adds to your interior is superb, from putting it on overhead cabinets and shelves to the center table, side tables, and doorway or garage. It adds an accent to your living room and furniture and can maximize the space, adding color to your home.
Having a home is essential, but making it feel like home is another thing, and adding art can help you bring an accent and make your home even more beautiful.
With the right choices, texture, design, and palette, you can turn your house into someone's dream home. That's why adding art to your home is a big game-changer.
All Properties offers online property listing for ready homes, and lots for sale under one of the country's biggest and reputable real estate companies, Vista Land and Landscapes' subsidiaries, Britanny, Crown Asia, Camella, and Lessandra located in Ilocos Sur, Pampanga, Pangasinan, Antipolo, Cavite, Iloilo, and Cebu.